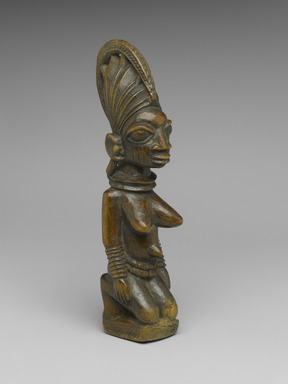 Kneeling Female Figure
Attributing a specific piece of ritual African art to a particular artist is seldom possible, in part because the artists often perpetuated the myth that the objects were not the work of human beings, and also because the original collectors of these pieces rarely inquired about the artists' names. This piece, however, has been attributed to Areogun of Osi, one of the most prominent Yoruba artists of the twentieth century. His distinctive style is identifiable in the figure's elaborate openwork headdress, proportionally large ears, and curved breasts.
Kneeling female figures, often nude, are common in Yoruba religious art. In this pose, the figure represents a supplicant before the orisha, or deity, on whose altar it is placed. The image beautifies the altar and thereby honors orisha.
Catalogue Description:
Kneeling female figure on small rectangular base. Figure wears prominent neck collar, series of bracelets covering forearms, earrings, and double strand of beads around waist. Elaborate oval coiffure with raised saggittal ridge. Exaggerated delineation of facial features--especially large "C" shaped ears. Series of three incised vertical scarification marks on each cheek. Breasts extend forward and curve outward, form echoed on smaller scale by raised naval. Hands and feet square in shape. Polished surface. Color: brown. CONDITION: Good.
---