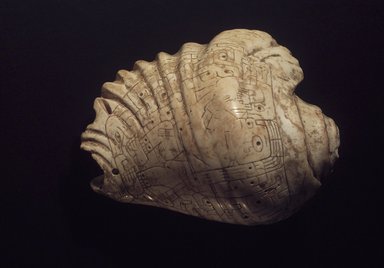 Incised Strombus-Shell Trumpet
Catalogue Description:
Strombus-shell trumpet with an elaborate, incised design of a human figure blowing on a conch shell with a cascade of serpents emanating from it, possibly alluding to the sacred nature of the sounds produced. The ancient Chavin people probably used shell trumpets during rituals because such activities are depicted on architectural friezes and monumental sculpture. Drill holes suggest that the piece could have been suspended on a cord, perhaps from the neck of a priest. Condition: excellent.
---