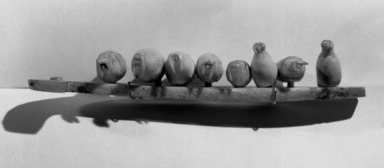 Carving of nine walruses on an ice floe
Catalogue Description:
This rattle or paddle has eight carved walrus along it attached with ivory pegs to the wand so one is missing. This style of ivory tusk carving was done in response to the trade market where carvers quickly invented the form of carving tusks. The concept of small animals attached along the length was purely to appeal to this market, although the Inupiaq had a long artistic tradition of small, singular figures and carved fish lures for their own use.
---