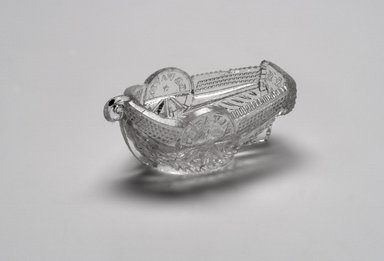 Salt, Lafayette Boat
Catalogue Description:
Colorless pressed glass salt molded into shape of a boat. Scrolled masthead at prow; a round wheel or medallion shape on each side which projects above side of boat, top half contains molded name "LAFAYET." arched over a star, lower half with radiating stripes; stern in flat, hemispherical shape molded with stars and "B. & S." / GLASS. Co". Outer sides of boat decorated with bands of geometric patterns; inside bottom and underside of boat, molded: "SANDWICH".
---