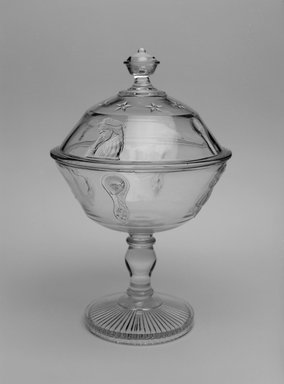 Compote (Maggie Mitchell & Fanny Davenport)
Catalogue Description:
Colorless glass compote (a) with lid (b). Bowl of compote round with straight, flaring sides supported on stem with bulbous center and round base with radiating facets. On opposing sides of bowl, molded bust portraits of the actresses Maggie Mitchell (with derby hat) and Fanny Davenport (with hand to her face); in between portraits, opposing identical decorative motifs with seashell. Fitted domed lid with same decorations (portraits and seashell motif) around sides, ring of stars around top and squat, urn-shaped finial.
---