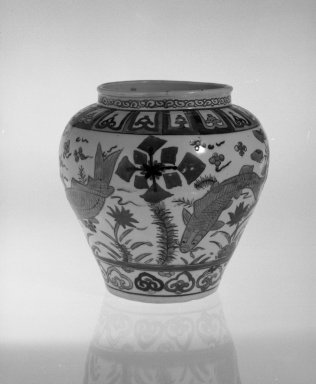 Globular Jar
Porcelains in the Ming Jiajing era were dec;orated with a variety of techniques, the most dramatic of which is the combination of underglaze cobalt-blue and overglaze polychrome enamels, called wucai, or "five colors." Wucai porcelains can of course have more or fewer than literally five colors, but the aim is for a brilliant, dramatic effect. The fish design on this Jar forms a kind of pun. The word for "fish ," yu, sounds the same as the word meaning "surplus" or "excess." Jin means "gold," and jinyu, or "goldfish," can become a pun on the phrase "surplus of gold."
Medium: Porcelain, underglaze cobalt blue decoration, overglaze
Geographical Location: China
Dates: 1522-1566
Dynasty: Ming Dynasty
Period: Jiajing (Chia Ching) Period
Dimensions: 9 3/16 x 8 15/16 in. (23.3 x 22.7 cm)
Markings: Imperial Jiajing mark on base
Collection: Asian Art
Museum Location: Brooklyn Museum, BMA, 5H19, 9D
Accession Number: 52.49.14
Catalogue Description:
Heavy porcelain with five color (wucai) decoration in overglaze enamels on white ground. Yellow fish are swimming amongst aquatic plants. Shoulder and base are bordered in radial and dentated leaf designs with red, green and underglaze blue outlines. Imperial Jiajing mark. Condition: Intact.
---