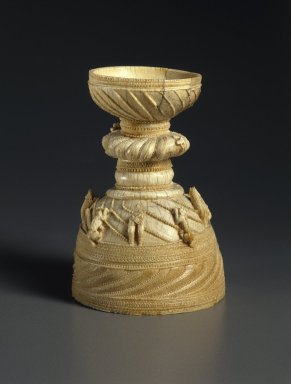 Fragment of a Saltcellar
During the first half of the sixteenth century, Sapi craftsmen, in Sierra Leone, became famous for carving ivory objects for export to Europe. This piece, though traditionally called a "saltcellar," actually was never meant to hold salt, but served as an ornamental pedestal cup. The cup, which is missing its lid, originally had a series of four human figures: two males wearing trousers and two nude females. These alternated with four dogs around the base. From other cups with similar motifs, we know that the dogs faced upwards and were represented as barking at an assembly of snakes hanging down from a spiral shaped element above. Only fragments of these carved human and animal figures remain.
Catalogue Description:
Base of a "salt cellar" of chalice type. The cup stands on a convex circular base decorated with curved lines of "beaded" ivory. The stem is decorated with rows of this beading technique and has a large circular flange in the middle also decorated with "beading" and some figures in relief. The cup is decorated with bands and curving lines of "beading" as well as animals anad human figures in relief around the lower half, (4 humans, 4 animals). CONDITION: parts of the upper cup are missing, the figures in relief are badly damaged and missing. Parts of the circular base are badly damaged.
---