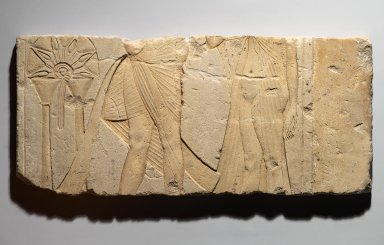 Relief, offering scene
Catalogue Description:
Limestone relief. In sunk relief, Akhenaten and Nefertiti facing left before incense stands supporting formal bunch of lotus flowers. King wears short, pleated skirt with unusually long flaring strands; both arms were raised. Queen's right arm raised, the left pendant by her side with finely drawn hand. Only central portions of the bodies are preserved. Condition: Scattered chips. Surface of garments worn by water? Gash along abdominal area of queen. Only remains of ancient paint are on crevice outlining abdomen of king and adjacent edge of skirt, on queen's navel, and upper buttock.
---