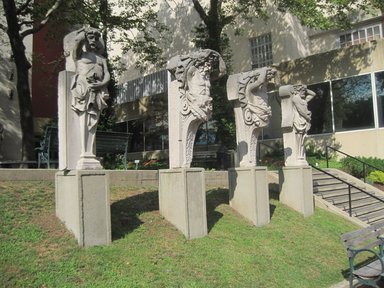 Atlante, one of four, from Hugh J. Chisholm Mansion, 813 Fifth Avenue, NYC
Catalogue Description:
Set of four limestone Atlantes (sculptural supports in the form of a man). Four bare-chested men with drapery around their waists, attached at back to pilasters, and supporting a now missing ledge with arm or arms. Two hold both hands over heads; two have one arm above head, other arm holding drapery. The figures adorned the facade of the Hugh J. Chisholm house until 1961, when the structure, along with two adjoining houses, was torn down to make way for an apartment building.
---