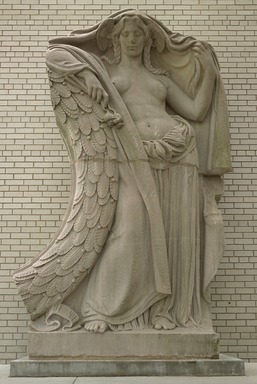 Night, Clock Figure from Pennsylvania Station, 31st to 33rd Streets between 7th and 8th Avenues, NYC
This slumbering female figure once stood beside a huge clock above an entrance to the original Pennsylvania Station. The vast complex, completed in 1910, was designed by Charles Follen McKim and modeled after the Roman Baths of Caracalla. Each of four pedestrian entryways to the terminal was surmounted by a clock, flanked by two allegorical figures representing time. Day held a sunflower, and the hooded Night, seen here, bears a drooping poppy. The terminal building was demolished in 1963. This sculpture was retrieved from landfill in the New Jersey Meadowlands.
Catalogue Description:
Clock figure. Semi-nude allegorical figure depicting night. The female figure is draped in the enveloping cloak of night, with eyes closed and an oriental poppy drooping from her hand. The figure of night and the figure of day (symbolized by sunflowers) flanked the clock, which was encircled by a laurel wreath. There were four identical clocks on the exterior facades of Penn Station.
---