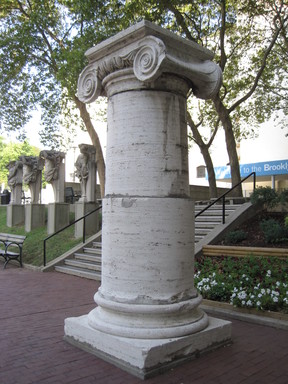 Partial Column, from Penn Station, 31st to 33rd Streets between 7th and 8th Avenues, NYC (demolished 1964)
This truncated shaft was one of the enormous columns that stood at the north and south ends of the Waiting Room in the original Pennsylvania Station, a vast railroad-terminal complex whose style was inspired by ancient Roman baths. Completed in 1910, the station was demolished in 1963.
Catalogue Description:
Truncated column with base, capital, and partial shaft. Originally installed in the Pennsylvania Station waiting room. A set of six ionic columns flanked each of the stairways leading from the 31st and 33rd street entrances to the main waiting room.
---