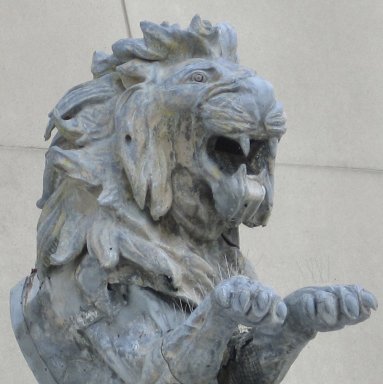 Lion, from the El Dorado Carousel, Coney Island, Brooklyn
This ferocious creature was one of a trio of rearing lions that originally pulled a chariot atop the entrance pavilion to the giant El Dorado Carousel at Coney Island. This spectacular carousel showpiece, complete with an enormous band organ, was imported from Leipzig, Germany, in 1910 and originally installed on Surf Avenue and West Fifth Street near Coney Island's famous Luna Park and Dreamland. The El Dorado Carousel and its pavilion survived the Dreamland fire of 1911 and were rebuilt inside a vast steel and glass structure called the Pavilion of Fun at nearby Steeplechase Park. In 1923 the carousel's pavilion enclosure was demolished and the three lions were installed at another site in the amusement park, where they remained until Steeplechase Park closed in 1964. Today the carousel operates at the Toshimaen Amusement Park in Tokyo, Japan.
Catalogue Description:
Roaring lion head, with forelegs and paws extending. One of three originally associated with the elaborate carousel "El Dorado," manufactured in Leipzig, Germany, by Hugo Haase, for William II, emperor of Germany and King of Prussia, imported for Coney Island in 1910. It was originally installed on Surf Avenue, either near Dreamland or Luna Park (accounts differ). After the 1911 fire which devasted Dreamland, the carousel was relocated to Steeplechase Park, but the front facade, which included the lions, was separated from the carousel and installed as a doorway to the "Barrel of Fun." The entire facade was dismantled and discarded in 1923, except for the three zinc lions. They remained at Steeplechase Park until 1966, when they were finally dismantled and sold. The carousel was purchased for use at the 1970 Osaka World's Fair, and is currently in use at the Toshimaen Amusement Park in Tokyo.
---