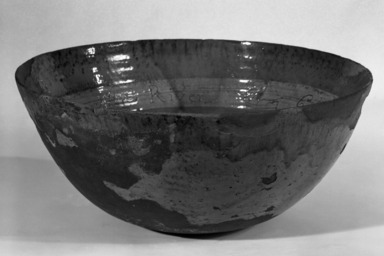 Punch Bowl
Both the extraordinary size and political inscription on this bowl are very rare. The inscription on the inside around the top reads "Success to Trade and Navigation in All Free States—North River." Below is inscribed "August 17, 1792—Albany Packet TWO BROTHERS" and (at the bottom) "Freedom to the Slave G.W." The North River was an old name for the Hudson River. The abolitionist sentiment reflects a late eighteenth-century movement to abolish slavery by gradual emancipation. "G.W." may well refer to George Washington. Although a slave owner, Washington was sympathetic to this abolitionist plan of the Quakers and others. According to his will, Washington's slaves were freed upon his death. The bowl was found buried in the ground near Albany; this history accounts for its deteriorated but evocative condition.
Medium: Earthenware
Geographical Location: United States
Dates: 1792
Dimensions: 7 1/8 x 16 1/2 x 16 1/2 in. (18.1 x 41.9 x 41.9 cm)
Inscriptions: Incised on outer band of yellow slip: "Success to Trade and Navigation in All Free States--North River" and the initials "C.P."; incised on inner band of yellow slip: "August 17, 1792--Albany Packet Two Brothers"; inscribed in central medallion "Freedom / to the Slave / G.W."
Collection: Decorative Arts
Museum Location: Brooklyn Museum, BMA, EXHIBITION-5, American 5J31
Accession Number: 48.143
Catalogue Description:
Punch bowl, "Two Brothers," slip-decorated red earthenware, interior decorated with two bands and a central medallion of yellow slip on which inscriptions are incised followed by an outline sketch of a sailboat and the initials "C.P." The central medallion is also inscribed. Condition: Slip worn and chipped.
---