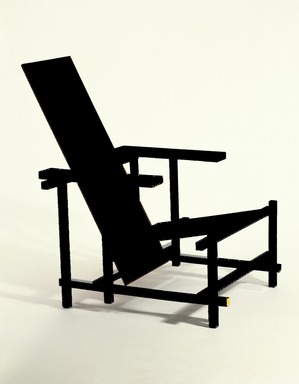 Armchair
It is rare for decorative arts objects to evoke an artistic movement but this armchair formerly owned by De Stijl architect J. J. P. Oud (Dutch 1890–1963), has become an icon of De Stijl and expresses De Stijl ideology through balanced application of color and the arrangement of geometric elements. De Stijl artists shunned historicism and naturalism and sought new abstract forms to express the ideals of the future.
Catalogue Description:
Frame constructed of 1" x 1" wooden bars, with wider wood used in arm supports; painted with black enamel and ends of each bar painted in yellow enamel to resemble freshly sawn timbers. Rectangular plywood sheets, painted in brick red enamel, form slanting seat and back supports; framework screwed together. Traces of blue paint under black (may have been repainted early); chair design based on a ten cm. module, approximately three times the width of posts and rails. Designer: Gerrit Rietveld (1888-1964) Dutch architect of DeStijl group, was a friend of Mondrian whose later paintings closely resemble forms of this chair. Condition: Good; scratches on reverse side of back support, scattered small nicks in paint.
---