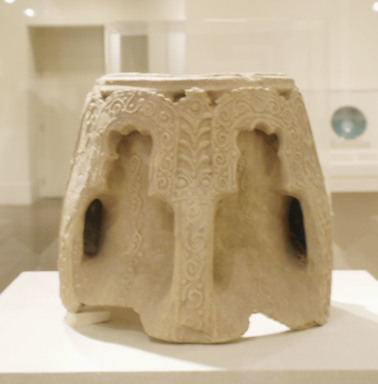 Top Section of a Water Jug
The ornate decoration of this water jar, with its seated drinkers, attendants, lively arabesques, and birds, attests to the popularity of courtly imagery in the medieval Islamic world. An almost identical jar is in the Victoria and Albert Museum, London. The two may have come from a set used in a palace or other secular setting.
Medium: Ceramic; earthenware, pierced decoration
Geographical Locations:
Dates: late 12th-early 13th century
Dynasty: Possibly Seljuq
Period: Seljuq Period (possibly)
Dimensions: 12 x 14 1/4 x 14 1/4 in. (30.5 x 36.2 x 36.2 cm)
Collection: Arts of the Islamic World
Accession Number: 73.30.6
Catalogue Description:
Top of a large water cistern or cooler of porous clay. It has an elaborate molded and incised ornament of human and animal figures in vegetative motifs in ogival panels, which constitute a decorative screen for an air space 1 1/4" thick. Center motif is of a seated figure on a throne with a cup, a symbol of office in his left hand, perhaps in the manner of a Seljuk sultan. He is dressed in a long embroidered robe, riding boots and a conical fur brimmed hat from which 2 pigtails dangle. Surrounding the seated figure is an open-work intertwined arabesque ornament. Surmounting this are two confronting birds with heads turned towards their tails. Flanking the seated figure to right and left are standing guards dressed in early 13th century Seljuk fashion, one of whom carries a sword. The standing figure on the right is faceless and probably was also carrying a sword, but it is absent. Next to the guards are crowned, winged sphinxes with tails terminating in a dragon head. The handle emerges from a straight piece is jagged with several missing sections.
---