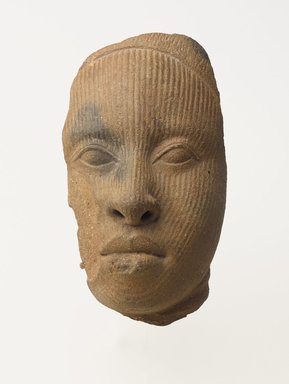 Fragment of a Head
ART OF PORTRAITS
While Western artists have historically often attempted to represent a person exactly how they look, many African artists instead have created portraits based on a specific physical or personality feature of the subject.

This terracotta head, most likely depicting the oni, or king, of ancient Ife, shows that Yoruba sculpture was already highly developed a thousand years ago. Ife court art interprets the human figure with extraordinary naturalism. This head, however, is not intended to be truly representational or realistic. It shows the oni in the prime of life, with no imperfections.

Fiegnon is composed chiefly of a discarded oil jerry can. Although Fiegnon may appear to resemble a mask, Romuald Hazoumé has noted that his works are, in fact, portraits—of particular individuals or of social types. With its long braids, this work represents a Fulani man Hazoumé met fishing in the lagoon where he found the oilcan.

The striking differences in style and materials in these two portraits may also reflect a marked gap in status and power between their two subjects.

This text refers to these objects: ' L54.5; 2014.32.2