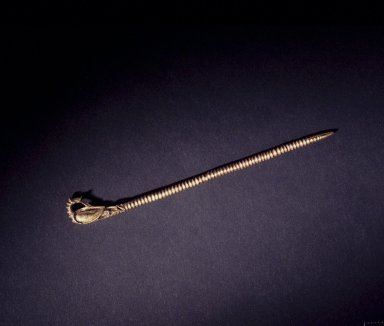 Pin with Persian Ibex Motif
The Achaemenid rulers of ancient Persia favored images of lions with their mouths open in a snarl or roar. On these gold jewelry
elements, the lions are shown complete or as heads only, in both fairly realistic and highly decorative forms. The gold head of a bull, another dangerous animal, seems almost placid in comparison. The pin decorated with an ibex, or wild mountain goat, was used to fasten garments.

This text refers to these objects: ' 70.142.6; 70.142.7; 70.142.8; 70.142.10; 70.142.11; 1998.25