Study for Russian Ballet
Max Weber
American Art
The Russian-born American modernist Max Weber, who worked in a progressive, French-inspired mode of Cubist abstraction during the teens, employed preparatory works to explore compositional arrangements from which he would develop an abstract pictorial design. The intense sketchiness and exuberant expression of the figure subject in this watercolor demonstrate the artist's dramatic departure from traditional figure styles of the late nineteenth century. His studies ultimately suggested to Weber broad patterns of light and dark and forces of dynamic movement, all of which he would translate into geometricized patterns of line and color. In the finished work, he remade the subject so dramatically that direct correspondences in form between study and final painting are difficult to identify.

MEDIUM Watercolor on laid paper
DATES 1914
DIMENSIONS
18 3/4 x 24 3/4 in. (47.5 x 62.8 cm)
(show scale)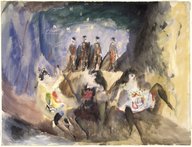 SIGNATURE Signed lower right: "Max Weber 1914 / Russian Ballet"
MUSEUM LOCATION This item is not on view
mysql error (opencollection): Table 'opencollection.exhibition_image' doesn't exist [qry: SELECT E.id, E.*, (SELECT filename FROM exhibition_image WHERE exhibition_id=E.id ORDER BY rank ASC LIMIT 1) AS `filename` FROM exhibition E WHERE E.id IN (SELECT exhibition_id FROM object_to_exhibition O2E WHERE O2E.object_id=1874) ORDER BY start_date DESC LIMIT 0,10]