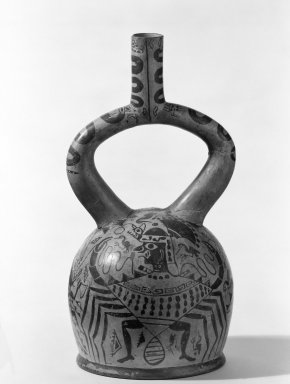 Stirrup Spout Vessel
On this fineline vessel the anthropomorphic Crab Deity and Demon Fish are engaged in supernatural combat. Grasping a crescent-bladed tumi knife, a symbol of decapitation, the Demon Fish has been caught by the Crab Deity. The Demon Fish may be a personification of the sea and its dangers for Moche fishermen. We may never know the exact meaning of this scene, but the objective of the battle appears to be the capture of the enemy for ritual sacrifice.


En esta vasija de línea fina, la Deidad Cangrejo y Pez Demonio antropomórficos aparecen enfrentados en combate sobrenatural. Agarrando un cuchillo tumi de hoja en forma de media luna, un símbolo de decapitación, el Pez Demonio ha sido capturado por la Deidad Cangrejo. El Pez Demonio puede ser una personificación del mar y sus peligros para los pescadores Moche. Posiblemente jamás conoceremos el significado exacto de esta escena, pero el objetivo de la batalla parece ser el capturar al enemigo para sacrificio ritual.