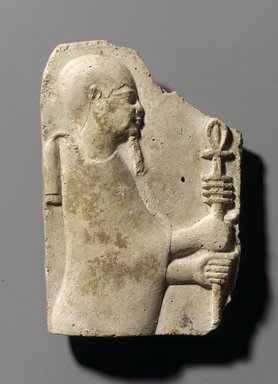 Relief of Ptah Holding Ankh and Djed
The complex nature of Egyptian deities is often indicated by their attributes. Osiris's tightly wrapped mummy shroud and his crook and flail (symbolizing kingship) point to the legend of Osiris's murder, mummification, and subsequent resurrection as the ruler of the underworld. The cobra held by his wife, Isis, represents the magic that revived her husband and guarded their son, Horus. As the rightful heir to Osiris's throne and the embodiment of kingship, the falcon-god Horus wears the Double Crown.

Animals can also reveal divine qualities. The cow or cow-human forms of Hathor refer to her role as provider of milk to Horus and to young kings of Egypt. Bastet, another benevolent female deity, appears as a cat or cat-headed woman, carrying a basket and sistrum.

Certain deities, including Neith, Ptah, Nefertem, and Imhotep, were portrayed in human form. The ancient protectress Neith, associated with war and hunting, wears the flat-topped Red Crown of Lower Egypt. The Memphite creator-god Ptah holds a staff with hieroglyphs for life and permanence. Ptah's son, Nefertem, a lotus on his head (symbolizing rebirth), defends Maat with his scimitar. Imhotep, the deified architect of Djoser's pyramid, shares Ptah's close-fitting cap, and the papyrus on his lap emphasizes wisdom and creativity.

This text refers to these objects: ' 37.357E; 37.356E; 53.78; 37.376E; 05.394; 05.395; 37.565E; 86.226.17; 08.480.24; 05.393
Medium:

Stucco

Place Made: Egypt
Dates:

4th-3rd century B.C.E.

Period:

Late Period-Ptolemaic Period

Dimensions:

5 1/4 x 3 5/8 x 7/8 in. (13.4 x 9.2 x 2.3 cm)

(show scale)
Collections:Egyptian, Classical, Ancient Near Eastern Art
Museum Location: This item is on view in Egypt Reborn: Art for Eternity, Old Kingdom to 18th Dynasty, Egyptian Galleries, 3rd Floor
Exhibitions:
Accession Number:

86.226.17

Credit Line:

Gift of the Ernest Erickson Foundation, Inc.

Rights Statement: Creative Commons-BY
Caption: Relief of Ptah Holding Ankh and Djed, 4th-3rd century B.C.E. Stucco, 5 1/4 x 3 5/8 x 7/8 in. (13.4 x 9.2 x 2.3 cm). Brooklyn Museum, Gift of the Ernest Erickson Foundation, Inc., 86.226.17. Creative Commons-BY
Image:
Record Completeness: Best (83%)