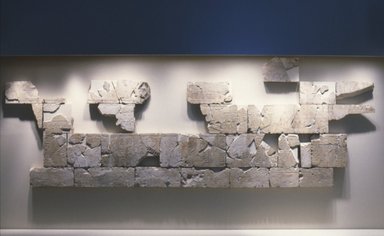 Relief Blocks from the Tomb of the Vizier Nespeqashuty
The vizier was the highest-ranking governmental official in ancient Egypt. His duties included overseeing the administration of the country by supervising, for example. the bureaucracies that dealt with land management, tax collection, and judicial affairs. It appears that in the Old Kingdom the task became so formidable that separate viziers were created for the northern and southern parts of the country this division seems to have continued throughout the remainder of ancient Egyptian history.
Nespeqashuty was vizier, presumably of Upper Egypt, during the reign of Psamtik I, first king of Dynasty XXVI, and may also have served as such under Tanwetamani, last king of Dynasty XXV. For an unknown reason, rather than building a new tomb for himself, he expropriated and rebuilt an older tomb from Dynasty XI. Built high on a cliff face at Thebes, the tomb commanded a sweeping view of the Theban necropolis and was situated just above an important processional route. In addition to remodeling the tomb's courtyard, Nespeqashuty decorated the tomb with reliefs which had to be fashioned in freshly hewn stone and attached to the tomb walls because the tomb's own stone was too poor to be carved. The reliefs from his tomb that are shown here compare favorably with those from the tomb of Montuemhat, one of his contemporaries.
This text refers to these objects: ' 52.131.19; 52.131.10; 52.131.11; 52.131.12; 52.131.14; 52.131.15; 52.131.16; 52.131.17; 52.131.18; 52.131.32; 52.131.1a-i; 52.131.2; 52.131.3; 52.131.4; 52.131.5; 52.131.6; 52.131.7; 52.131.8; 52.131.9; 52.131.20; 52.131.21; 52.131.22; 52.131.23; 52.131.24; 52.131.25; 52.131.26; 52.131.27; 52.131.28; 52.131.29; 52.131.30; 52.131.31
Medium:

Limestone

Place Found: Thebes (Deir el Bahri), Egypt
Dates:

ca. 664-610 B.C.E.

Dynasty:

XXVI Dynasty

Period:

Late Period

Dimensions:

40 9/16 x 63 3/8 in. (103 x 161 cm) 52.131.1a: 9 3/4 x 19 3/8 in. (24.8 x 49.2 cm) 52.131.1b: 9 3/4 x 14 3/4 in. (24.8 x 37.5 cm) 52.131.1c: 9 5/8 x 17 in. (24.4 x 43.2 cm) 52.131.1d: 16 1/2 x 25 in. (41.9 x 63.5 cm) 52.131.1e: 16 7/16 x 10 15/16 in. (41.8 x 27.8 cm) 52.131.1f: 16 3/8 x 18 in. (41.6 x 45.7 cm) 52.131.1g: 14 5/16 x 23 3/8 in.

(show scale)
Collections:Egyptian, Classical, Ancient Near Eastern Art
Museum Location: This item is on view in Egypt Reborn: Art for Eternity, Temples and Tombs, Martha A. and Robert S. Rubin Gallery, 3rd Floor
Exhibitions:
Accession Number:

52.131.1a-i

Credit Line:

Charles Edwin Wilbour Fund

Rights Statement: Creative Commons-BY
Caption: Relief Blocks from the Tomb of the Vizier Nespeqashuty, ca. 664-610 B.C.E. Limestone, 40 9/16 x 63 3/8 in. (103 x 161 cm). Brooklyn Museum, Charles Edwin Wilbour Fund, 52.131.1a-i. Creative Commons-BY
Image:
Catalogue Description:

Nine limestone blocks forming two registers of raised relief from the tomb of Nes-peka-shuti. Lower register, two male and four female servants in style of Old Kingdom but apparently copied from Hatshepsut temple, bringing offerings. Between the servants columns of inscriptions giving titles and name of owner. Reliefs are in various stages of completion. Upper register, the return from Abydos. At left, owner and his wife seated in boat under canopy; at right, another boat with full crew, this latter scene only outlined in red. These scenes in upper register are in style of New Kingdom (Theban). All reliefs broken and assembled. Numerous large gaps especially on lower register. Upper right section only outlined in red. Lower register very interesting in showing method of working these scenes. Demotic graffiti on upper register copied and translated by Prof. Mallinine (1957). His notes under this accession no. in file "Notes on Collections." Stone is the hard and slightly yellowish stone of the Asasif with numerous traces of iron on the surface. Condition: The reliefs have been assembled from many fragments and there are numerous gaps, particularly in the lower register. Most of the reliefs are more-or-less unfinished and the various stages of completion are one of the valuable characteristics of these reliefs. All surfaces (worked) were covered by the MMA with heavy layers of cellulose acetate to eliminate the need for glass in exhibition. This is to be removed in Brooklyn (Sept. 1957). Stone is a fairly hard, yellowish limestone with numerous traces of iron on the surface.

Record Completeness: Best (92%)