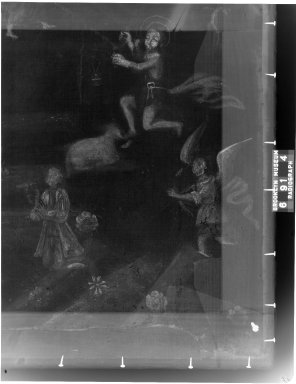 The Carpenter's Shop in Nazareth
Religious paintings in private chapels often had both didactic and devotional purposes. From the sixteenth century, missionaries intent on imposing Catholic doctrine and Christian morality on native people promoted domestic scenes of the Holy Family such as The Carpenter's Shop in Nazareth as models for proper family conduct. An oratory would also have been an apt location for a painting such as the Christ Child with Passion Symbols, whose emblematic elements made it particularly suitable for devotion.


Las pinturas religiosas en las capillas privadas a menudo tenían objetivos tanto didácticos como piadosos. Desde el siglo XVI, la resolución de los misioneros de imponer la doctrina católica y la moralidad cristiana a los nativos estimuló el uso de escenas domésticas de la Sagrada Familia, tales como El Taller de Carpintero en Nazaret, como modelos apropiados de conducta familiar. El oratorio hubiese sido también una ubicación apropiada para una pintura como la del Cristo Niño con los Símbolos de la Pasión, cuyos elementos emblemáticos lo hacían particularmente conveniente como objeto de devoción.


This text refers to these objects: ' 43.112; 64.207