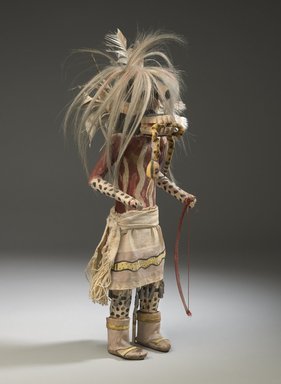 Kachina Doll (Hilili Kohanna)
Artist:She-we-na (Zuni Pueblo)
Medium: Wood, pigment, horse hair, hide, cotton, feathers, tin
Dates:late 19th century
Dimensions: 20 x 6 1/2 x 5 1/2 in. (50.8 x 16.5 x 14 cm)
Collections:
Exhibitions:
Objects of Myth and Memory
Life, Death, and Transformation in the Americas
Accession Number: 03.325.4648
Image: 03.325.4648_threequarter_PS6.jpg,
Catalogue Description: The kachina who is known to carry a stuffed or real snake around his neck during the Hilili dances is the Hilili Kohanna kachina. It is possible that this doll is a variation of this kachina because of the stuffed snake and the wildcat dots on his arms that may reflect the wildcat skin worn by this kachina. Alternatively it might not really be a kachina dancer but a representation of a snake dancer, one who dances with live rattlesnakes of bull snakes. This dance is still done at Hopi although it is now closed to the public due to audiences that were too rowdy.The previous name of kachina is by Culin and is not correct. This kachina doll is wearing a cotton kilt with a painted snake design. A stuffed fabric image of a snake hangs from the kachina's protruding mouth. This doll is holding a bow in proper left hand and a spade shaped fan in the proper right. There are leather boots with turned back cuffs on his feet. His chest is painted with squiggly, vertical stripes. His arms, legs and face are dotted. His goggle eyes are painted textiles fastened to the mask. The arms are held on with nails. He wears a feather headdress and has long, unruly hair.
Brooklyn Museum