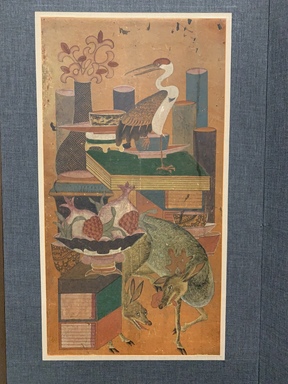 Scholar's Objects and Books (Chaekgeori) with Auspicious Animals and Plants
Medium: Ten-panel folding screen, ink and color on paper
Dates:19th century
Dimensions: 76 3/8 × 127 9/16 in. (194.0 × 324.0 cm) each image: 20 1/4 × 10 7/8 in. (51.4 × 27.7 cm)
Collections:
Accession Number: 2018.41.1
Image: CUR.2018.41.1_detail01.jpg,
Catalogue Description: Ten-panel folding screen combining the common themes of scholar's objects (Chaekgeori) and auspicious animals and plants. Each panel depicts a stack of books, scrolls, and vessels with symbolic fruits or plants arranged in the vessels and emblematic animals perched on, or wandering among, the stacks. The elements are painted in a variety of bright colors on orange, decorated paper. The paintings are newly remounted in the traditional manner on much larger panels covered in plain blue cloth. Each painting has a wuite border. Reading from the viewer's left, the panels depict: 1) A crane perched atop an album with a dish of pomegranates and two deer (one male, one female) eating lingxi fungi below. 2) A melon with its vine diplayed in a footed dish on a wood cabinet and a vertical scholar's rock above, with a tortoise below 3) A peony in a vase with butterflies above with two phoenixes and a censer below 4)A morning glory with two moths above, with two kingfishers below. 5) A teapot/ewer at the top, with chrysanthemums in a vase at the center and two pheasants and a dish of grapes below 6) A pair of magpies (?) on a branch of maple with a dish of ripe bittergourds below 7) A male and female pheasant (?) at top and bottom with a dish of citrons at center 8) A potted orchid with insects above (also a teapot/ewer) with a Qilin (mythical lion/deer) below. Throughout the panels are pouring and drinking vessels of various shapes and materials, including decorated cups that appear to be of blue-and-white porcelain (although they are depicted in gray and white), metalwares, and pieces that appear to be in basketry. All of these are items that Korean connoisseurs would have collected and used when entertaining guests. Most of it stands on books bound in the traditional Korean manner, with multiple volumes gathered into an open-fronted box.
Brooklyn Museum