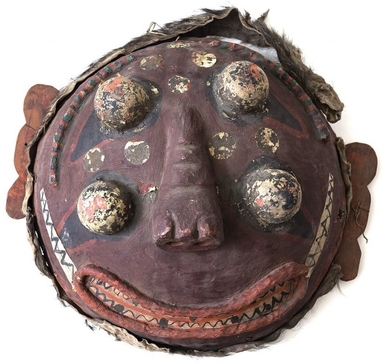 Ritual Mask
Medium: Papier mache, cloth, and pigment on basketry, bear skin and wood
Dates:probably late 19th century
Dimensions: diameter: 25 9/16 in. (65.0 cm)
Collections:
Accession Number: 2019.45.2
Image: CUR.2019.45.2.jpeg,
Catalogue Description: Round, bowl-shaped mask with four protruding eyes, ridged nose, and broad, toothy grimace. The face of the mask is formed of basketry covered with papier mache, the raised areas possibly formed from rope. Two large wood ears are attached by loose wires, and a strip of fur is tacked around the perimeter. The surface of the face is painted in brown-ish red with white spots added, and the mouth is extended beyond the lips with additional strips of sharp teeth on either side. This type of large, basketry mask was worn atop the head of a dancer who was covered with hanging cloth or fur, or it was possibly not worn at all but placed in a significant location. It does not have eye slots. The addition of painted spots is common to ritual and dramatic dance masks, and may indicate skin diseases such as leprosy and scabies. Likewise the extended toothy grin is found in many fierce masks, mostly representing lions. The bulging eyes are far less common, although large bumps made in the same manner are found on the cheeks and chins of many Korean masks, where they add to the expressions of the faces. With its four eyes, this appears to be an important but extremely rare mask type called Bangsangssi, which was used in funerary rites to drive evil influences out of the body of the deceased. Because they were believed to attract and absorb those evils, these funerary masks were typically destroyed by burning or burial following the ceremony. As a result very few historic examples survive. The best-known example is made of carved wood, found in the storerooms of Changduk palace in Seoul, and is designated as Korean Important Folklore Material no. 16. Like this mask, the Seoul mask has no eye holes and was apparently displayed, rather than worn or performed, at funeral rites. Carved wood was typically reserved for palace-based masking performances, whereas the basketry used for this example indicates that it was made for a humbler millieu. The tradition of employing four-eyed exorcism masks at funerals is found in both China and Japan, where they are called fanxiangshi and Hososhi, respectively.
Brooklyn Museum