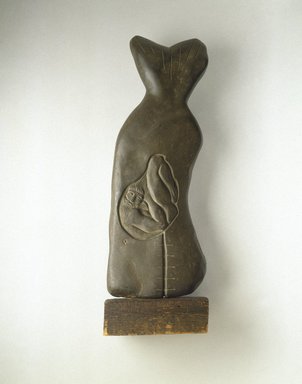 | | |
| --- | --- |
| Accession # | 1992.11.12 |
| Artist | John B. Flannagan |
| Title | Jonah and the Whale: Rebirth Motif |
| Date | 1937 |
| Medium | Bluestone with wood base |
| Dimensions | 30 1/4 x 11 x 2 1/4 in. (76.8 x 27.9 x 5.7 cm) |
| Signed | Unsigned |
| Credit Line | Bequest of Edith and Milton Lowenthal |
| Location | American Identities: Modern Life |
| Description | Statue of flattened, upright whale (face down, tail up) with contorted figure of bearded man in its stomach carved in relief on both sides; statue attached to rough wood block base. Condition: Good. |
Curatorial Remarks:
During the interwar years, John B. Flannagan was a leading American proponent of the method of direct carving—working directly on the material with one\'s own hands, instead of having the sculpture reproduced from a model using mechanical aids or assistants. He also believed that, within every rock, there was an image waiting to be freed by the sculptor. It took Flannagan two years to discover the subject matter for
Jonah and the Whale
in a piece of bluestone he found in the fields around Woodstock, New York. The work depicts the biblical prophet Jonah imprisoned in the belly a whale, his punishment for disobeying God. (He was released after repenting.) In the color, shape, and texture of the stone, Flannagan found the basic form of his whale, adding economical incisions to articulate the creature\'s mouth, eyes, and fins. Jonah\'s fetal position and the biblical promise of redemption evoke the theme of rebirth—a persistent theme in Flannagan\'s art and a metaphor for his creative process.