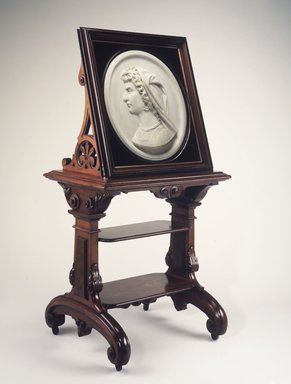 | | |
| --- | --- |
| Accession # | 2003.55a-d |
| Artist | Margaret Foley |
| Maker | Unknown |
| Title | Marble Relief of Pasuccia on Stand |
| Date | ca. 1865 |
| Medium | Marble, wood |
| Dimensions | Overall: 58 3/8 x 29 1/4 x 25 1/2 in. (148.3 x 74.3 x 64.8 cm) Marble portrait (sight): 22 x 19 in. (55.9 x 48.3 cm) Frame: 28 x 25 x 3 1/2 in. (71.1 x 63.5 x 8.9 cm) Display Table (excluding brackets): 31 1/2 x 29 1/4 x 25 1/2 in. (80 x 74.3 x 64.8 cm) |
| Signed | Marble relief signed, front and lower right: "M.F. FOLEY Sc. ROMA. 1865" |
| Credit Line | Bequest of Marie Bernice Bitzer, gift of Mabel Rusch, and bequest of Mrs. John H. Bennett, by exchange |
| Location | American Identities: Expanding Horizons |
| Description | Framed marble bas-relief portrait (b) and wooden display table (a) with two removable shelves (c & d). White marble relief: oval medallion containing a profile bust portrait of Pasuccia, a well-known Roman artists' model. She has curly hair and her head is partially covered with a hood or drape; she wears hoop earrings with beads and a beaded necklace with a cross. Marble relief is housed in a wooden frame within an ebonized matte with gilded edges. Frame has molded edges with ebonized and gilded accents. Renaissance Revival style display stand (possibly Virginia walnut): rectangular tabletop with molded edge supported on two legs. In profile, the legs are a general pilaster form with raised rectangular panels of birds eye maple veneer in center, and scrolls and acanthus leaf decorations in "capital" and at sides; legs terminate in low arch with scrolled terminals forming a total of four feet; feet raised on casters. Attached to the top of the table are two openwork wood brackets with carved scroll and floral motifs; these brackets support the frame with the marble relief. Two removable rectangular shelves with rounded corners are set between the legs; the upper shelf is slightly smaller than the lower one. |
Curatorial Remarks:
This exquisite marble relief, which depicts a well-known local artist\'s model, Pascuccia, was carved in Rome in 1865 by Margaret Foley, a self-taught sculptor who was part of the large expatriate artistic community in that city. It was purchased there by an American collector who upon his return horne commissioned the frame and stand. Finely carved with a variety of surface treatments to add "color" to the white stone, the relief is rendered in a Neoclassical style that both Idealizes the subject and reveals her strong physiognomy. The stand, by an unidentified cabinetmaker, incorporates classical motives characteristic of the Renaissance Revival style fashionable in furniture at the time, such as the acanthus leaves, scrolls, and anthemia seen on the sides. A wide range of artistic expression was available to designers and collectors In the nineteenth century, and the Renaissance Revival style flourished simultaneously with the very different Rococo Revival style of the adjacent center table.