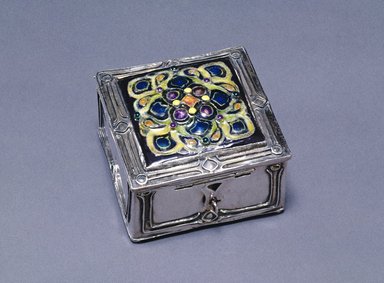 | | |
| --- | --- |
| Accession # | 1990.96.1 |
| Maker | Elizabeth E. Copeland |
| Title | Box |
| Date | ca. 1914 |
| Medium | Silver, enamel |
| Dimensions | 2 1/4 x 3 1/8 x 3 1/8 in. (5.7 x 8.0 x 8.0 cm) |
| Marks | Engraved on bottom: "EC 14" |
| Inscriptions | no inscriptions |
| Signed | no signature |
| Credit Line | Designated Purchase Fund |
| Location | American Identities: Everyday Life / A Nation Divided |
| Description | Box, silver with enamel decoration on lid. Rectangular box sits on four small bun-shaped feet. On each rectangular face of box is applied wire-work ornament comprised of two parallel lines outlining the sides and bottom edge, the lines are broken in the center of the bottom edge to enclose a diamond-shaped lozenge and terminate at a circle. Pin-hinged lid has pin-hinged pendant clasp on front edge; hinge is strap shape with triangular cut-out near hinge and cross-shaped cut-out below which accommodates a rotating "key" attached to the center of the front face of box; the key is ring and allows clasp to be secured. Top of lid is outlined with wirework similar to that on sides of box. A silver frame in center of lid holds central enamel panel. The panel has a complex design in which color fields are separated by cloisonné wires. Central medallion sits on chartreuse ground and is of quatrefoil shape with orange diamond in center surrounded by four small yellow circular jewels. Above each yellow jewel is a blue lobe surrounded by dark purple and at the tip of each lobe is a small dark green circular jewel. At each corner of the lid panel is a three part arrangement in which a blue lobe surrounded by dark purple is flanked by two orange, paisley-shaped lobes surrounded by dark purple, all sprouting from small, circular purple jewels. Chartreuse ground is surrounded by dark purple border. Condition: Old oxidation through out; numerous small scratches and tiny dents to all surfaces; outer dark purple border of enamel possibly repaired, since it does not fluoresce. Conservation reports on file. |
Curatorial Remarks:
Elizabeth Copeland was part of the flourishing Arts and Crafts community in Boston in the early twentieth century. Known especially for the use of rich enamel panels on her silver, she worked in a style that was intentionally rough to emphasize the handmade quality of her designs. In this box, the precious materials contrast with an archaic and primitive style to create an object reminiscent of medieval reliquaries.