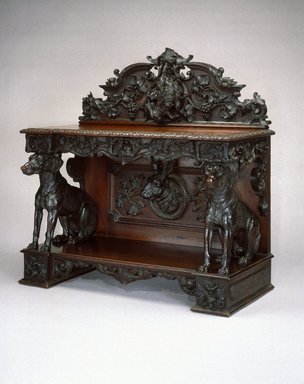 | | |
| --- | --- |
| Accession # | 1995.15 |
| Maker | Alexander Roux |
| Title | Sideboard |
| Date | ca. 1855 |
| Medium | Black walnut |
| Dimensions | 49 x 49 x 24 in. (124.5 x 124.5 x 61.0 cm) |
| Marks | Unmarked |
| Credit Line | Gift of Benno Bordiga, by exchange |
| Location | American Identities: Everyday Life / A Nation Divided |
| Description | Sideboard. American black walnut (Juglans nigra). Rectangular form, lower shelf raised on bracketed feet with scalloped, scrolled apron. Incised horizontal panels on sides. Paired, fully carved, seated male hunting dogs at either end support upper serving top with scrolling apron framed and decorated with carved branches with central knot of twigs and leaves with large insect at center; side aprons with similar carving supported by scrolled volutes against backboard. Backboard with fully carved bust of hare facing proper right framed with and flanked by vines and leaves. Quarter round leaf molding to top. Symmetrical, segmental pedimented splash board with elaborate carved vines and grapes with centered hanging dead hare, to proper right, and squirrel, to proper left. Condition: Very good. Flat surfaces faded and scratches, remainder of carved surfaces seemingly in original condition. |
Curatorial Remarks:
The dining room and accompanying furniture first appeared in aristocratic houses at the end of the eighteenth century. Dining rooms were furnished with a set consisting of table, chairs, and sideboards. The sideboard was often decorated with imagery related to its function.
This sideboard incorporates two hound dogs as front supports, a hare against the lower backboard, and a cricket nestled in the center of the carved vine on the front apron. The dead game animals illusionistically tied up at the crest sound a somewhat more sinister note.