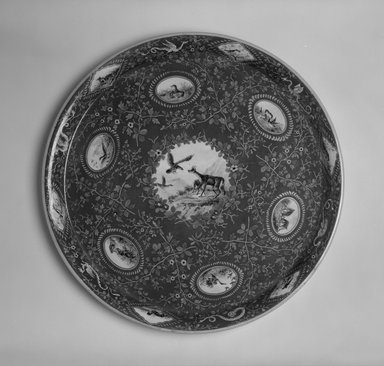 | | |
| --- | --- |
| Accession # | 1998.21.1 |
| Manufacturer | Union Porcelain Works |
| Designer | Karl L. H. Mueller |
| Title | Tray |
| Date | ca. 1867 |
| Medium | Porcelain |
| Dimensions | 1 1/4 x 16 1/4 x 16 1/4 in. (3.2 x 41.3 x 41.3 cm) |
| Marks | Painted in black on underside: "U.P.W. / S" |
| Credit Line | Marie Bernice Bitzer Fund |
| Location | American Identities: Expanding Horizons |
| Description | Porcelain tray with polychrome decoration. Round, flat bottom with upturned, convex rim. Inside covered with rust-colored ground, medallions containing naturalistically painted nature scenes, vines with leaves and flowers encircle the medallions. Decorations on bottom of tray: large circular medallion in center contains two deer (or antelope) on grassy outcropping, one grazing the other raises its head to confront two flying birds. Six smaller oval medallions around edge, containing (clockwise from top): weasel and monkey; two fighting ducks; two deer locking antlers; large gray bird (ostrich?) with ruffled feathers surrounded by flying birds; reclining boar and an unidentifiable animal; and swimming waterfowl spreading wings over her chicks. Rim decorated with six diamond-shaped medallions alternating with dragons; medallions contain single bird on a branch or an animal (fox or weasel). Condition: Good. |
Curatorial Remarks:
The finials on the teapot and sugar bowl, in the form of heads of an Asian male and a black sugarcane picker, respectively, will strike many modern viewers as racist imagery. The nineteenth-century consumer, however, would have considered these finials, and the goat's head on the creamer, clever iconographic shorthand that symbolized the contents of each vessel. The elegant form of this tea set is derived from eighteenth-century Rococo prototypes with curvilinear silhouettes, but the dense decoration that encrusts it is more typical of nineteenth-century design.