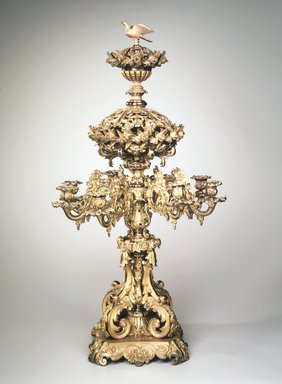 | | |
| --- | --- |
| Accession # | 1998.89 |
| Manufacturer | Cornelius & Baker |
| Title | Candelabrum |
| Date | ca. 1853 |
| Medium | Gilded bronze |
| Dimensions | 34 x 18 1/2 x 18 1/2 in. (86.4 x 47 x 47 cm) |
| Marks | Impressed on underside of base: "C & C" |
| Credit Line | Marie Bernice Bitzer Fund |
| Location | American Identities: Everyday Life / A Nation Divided |
| Description | Rococo Revival style candelabrum, gilded cast bronze with a matte finish highlighted with brilliant polished details, elaborately encrusted with leaves and flower decorations. There are three main sections: a base unit with the stem supporting eight detachable candleholders and a turned bowl; a middle unit which sits over the bowl (a cover?), itself topped with a smaller turned bowl; and a upper ornamental cover/finial topped with a eagle. Each of these units is assembled of several sections tied together with a central threaded rod and screw. Base consists of a square platform with notched corners and slightly concave sides, raised on acanthus leaf feet. Main columnar stem rises from base and is covered with projecting scroll and foliate forms. Stem supports a bowl covered with flowers. Below bowl, eight elaborately scrolled brackets serve as arms for the candle sockets. The middle section consists of openwork domed top that fits into the bowl and rises in lobes to a smaller bowl. The uppermost section is a domed lid for the bowl, covered with flowers and surmounted by an eagle finial. Condition: Fair, the gilding is abraded and there are many darkened areas due to corrosion of the underlying bronze; one arm is repaired; one of the bolted scroll feet exhibits cracking around the rosette and on the scroll. |
Curatorial Remarks:
Cornelius & Company was hailed as the leading U.S. manufacturer of lighting at the Great Exhibition in London in 1851. At the first World's Fair in the "New World," held in 1853 in Bryant Park where the New York Public Library now stands, Cornelius & Baker exhibited a version of this monumental candelabrum encrusted with leaves and flowers (see illustration). The top section can be removed and replaced with a glass bowl to hold flowers.