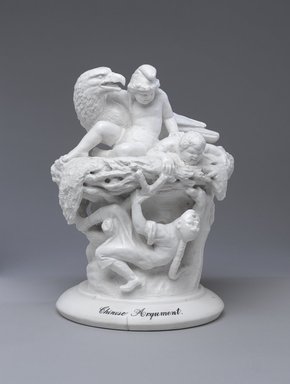 | | |
| --- | --- |
| Accession # | 2009.70 |
| Manufacturer | Union Porcelain Works |
| Designer | Karl L. H. Mueller |
| Title | "Chinese Argument" Figural Group |
| Date | ca. 1882 |
| Medium | Porcelain |
| Dimensions | H: 11 1/4 in. (28.6 cm) |
| Inscriptions | on front bottom of base in black: "Chinese Argument" |
| Credit Line | Gift of John D. Rockefeller III and Eleanor Wallace, by exchange |
| Location | American Identities: Expanding Horizons |
| Description | A complex sculptural group depicting a nest on top of a tree trunk. In the nest are an eagle at the back, and at center a nude putto in a slouching Phrygian cap with right arm about the neck of the eagle and left arm extended and holding down a young black boy at the front of the nest. On the tree trunk is a Chinese man trying to climb into the nest. There are rodents nestled in holes in the tree, all on a raised stepped circular base. Overall matte glaze. |
Curatorial Remarks:
Who is allowed into the American eagle's nest? Although this figural group incorporates nineteenth-century racial stereotypes, it was a cry against discrimination. A white child wearing the cap of liberty shares the eagle's nest with a black child, who is nevertheless pressed down. The Chinese man's attempt to join them is clearly doomed.
This sculpture reflects the debate surrounding the 1882 Chinese Exclusion Act, which curtailed Chinese immigration. The influx of Chinese workers began in earnest with the California Gold Rush of 1848. With an economic downturn in the 1870s, many Americans saw Chinese immigrants as competition for scarce jobs.