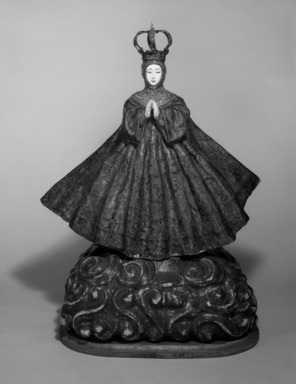 | | |
| --- | --- |
| Accession # | 42.384 |
| Culture | Hispano-Philippine |
| Title | Virgin |
| Date | probably 18th century |
| Medium | Wood, ivory, pigment, gilding, gessoed cloth, and silver |
| Dimensions | Figure: 26 1/4 x 27 1/2 x 9 1/2 in. (66.7 x 69.9 x 24.1 cm) |
| Credit Line | Frank L. Babbott Fund |
| Location | Visible Storage: Case 34, Shelf D (Spanish Colonial Art) |
| Description | The figure is of lacquered wood except for the hands and face which are ivory. The figure, which stands on a gilded wooden base, wears a flowing robe that flares greatly and she is adorned with a silver crown. |
Curatorial Remarks:
THE
MOSTRADOR
At banquets and other social occasions,
mostradores
—flights of steps covered with rich textiles (seen at upper left of illustration)— displayed a household's finest and most valuable objects. These pieces of furniture were particularly ideal for showcasing silver and gilt-silver trays. Imported porcelain, glass, ivory, and lacquer objects were also ostentatiously exhibited, alongside locally made lacquerware and earthenware cups. In Mexico, round lacquerware trays (
bateas
), often decorated with religious and mythological subjects, coats of arms, or chinoiserie (Chinese motifs), were particularly prized.
Mostradores
were also temporarily assembled in the family chapels of local churches, where the elite would display their costly possessions during important religious ceremonies such as the baptism of a new heir.

EL MOSTRADOR
En banquetes y otros eventos sociales, los mostradores—estantes de forma escalonada cubiertos con lujosos textiles (ver en la parte superior izquierda de la ilustración)—servían para lucir los objetos más finos y valiosos de la casa. Estos muebles eran especialmente idóneos para exhibir platería y objetos de plata dorada. Piezas de porcelana importada, vidrio, marfil y objetos en laca también eran ostentosamente expuestos, junto a loza vidriada y vasos de arcillas aromáticas de producción local. En México, las bandejas redondas de laca (bateas), a menudo decoradas con temas religiosos y mitológicos, escudos de armas o
chinoiserie
(adornos chinos), eran especialmente apreciadas.
Los mostradores también se montaban temporalmente en las capillas familiares de las iglesias locales, donde la élite exhibía sus bienes más preciados durante las ceremonias religiosas importantes como el bautismo de un nuevo heredero.