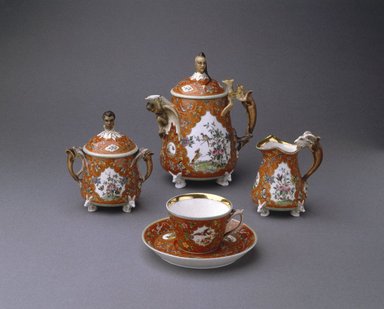 | | |
| --- | --- |
| Accession # | 68.87.31 |
| Manufacturer | Union Porcelain Works |
| Designer | Karl L. H. Mueller |
| Title | Cream Pitcher |
| Date | 1876 |
| Medium | Porcelain |
| Dimensions | 3 7/8 x 3 1/2 in. (9.8 x 8.9 cm) |
| Marks | Painted in red on bottom over glaze: "U.P.W" with "S" below. |
| Inscriptions | no inscriptions |
| Signed | no signature |
| Credit Line | Gift of Franklin Chace |
| Location | American Identities: Expanding Horizons |
| Description | Creamer pitcher, part of tête-à-tête tea set (68.87.28-.32), hard-paste porcelain. Body is general cylindrical shape, rises from flat bottom, angled in at sides, flares out around top edge to form spout, undulating rim around top edge. Opposing handle in form of pitcher plant with ram's head. Raised on four rabbit feet. Body decorated with light orange ground covered with flowers and butterflies; white reserves on sides and below spout contain flowers and birds. Gilt band around inside top edge. Condition: Good |
Curatorial Remarks:
The elegant form of this tea set is derived from eighteenth-century Rococo prototypes, but the amazing variety of flora and fauna that encrust it is typical of the creativity of nineteenth-century eclectic design. The finials on the teapot and sugar bowl, in the form of heads of an Asian male and black sugarcane picker, respectively, will strike many modern viewers as racist imagery, although the nineteenth-century consumer of such porcelain would have considered them benign and, along with the goat\'s head on the handle of the creamer, clever iconographic shorthand that symbolized the contents of each vessel.