Martha A. and Robert S. Rubin Pavilion and Lobby
Redesigned in 2004 by Polshek Partnership Architects, this modern, elegant space features an expansive sheer glass pavilion that overlooks our welcoming public plaza. The brick piers dividing the pavilion and adjacent lobby are the same bricks that once enclosed our five front doors, excavated, restored, and permanently exposed in the space. This grand pavilion artfully melds the historical and contemporary components of the building.
Capacity
500 (standing cocktail reception)
300 (seated ceremony)
250 (sit-down dinner)
200 (sit-down dinner with dancing)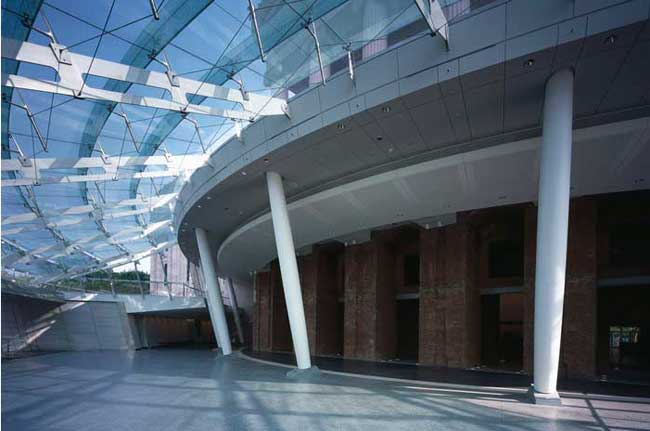 This magnificent, timeless space measures 10,000 square feet and two stories high, rising 60 feet above the floor to culminate in a dramatic skylight. It boasts historic features such as original archways, a large brass chandelier, and an updated glass-tile floor originally completed in 1927. While rich in history, the Beaux-Arts Court offers modern-day amenities including air-conditioning, a contemporary lighting system, and a recently completed bridal suite.
Capacity
880 (seated ceremony)
660 (sit-down dinner)
660 (sit-down dinner with dancing)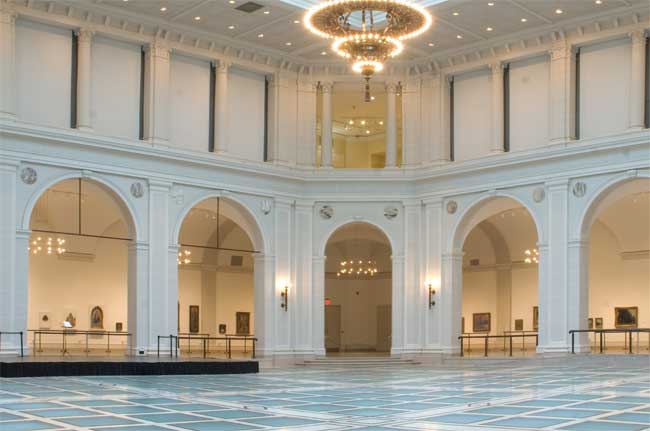 Iris and B. Gerald Cantor Auditorium
This modern, 4,700-square-foot auditorium, located in the heart of the Museum, is equipped to fulfill all the audio-visual needs of your next event. The auditorium features a stage measuring 56 by 22 feet, with a 28-by-16-foot screen that supports DVD, VHS, and 35mm projector formats.
The space offers newly installed ETC Unison Dimming Racks, upgraded surround sound with capacity for recording and playback, wireless and intercom systems, and a complete control system that allows for simple operation of all new technologies. An assortment of podiums, microphones, tables, and chairs is available upon request, as well as the adjacent green room.
Capacity
415 seats total (main floor and mezzanine)
280 seats (main floor)
135 seats (mezzanine)