Alex Martinis Roe
Berlin/Melbourne,
Germany/Australia
Alex Martinis Roe, b. 1982, holds a PhD in Fine Arts from Monash University, Australia (2010), and was awarded the Silver Jubilee Scholarship for post-graduate research (2006-9). In 2006-7 she was a resident at Gertrude Contemporary Art Spaces, Melbourne, and in 2007 undertook a summer program with Valie Export at the Salzburg International Academy for Fine Arts, Austria. Recent shows include HaVE A LoOk! Have a Look! FormContent, London (2010); Encounters: Conversation in Practice, Limbus Europae, Berlin (solo) (2010); Change, Monash University Museum of Art, Melbourne (2010); The Politics of Art, Linden Centre for Contemporary Art, Melbourne (2010); Opening Lines, Gertrude Contemporary Art Spaces, (2010); Discreet Objects, Utopian Slumps, Melbourne (2010); Affirmations, Light Projects, Melbourne (solo) (2010); Towards a Positive Politics of Difference, Monash University Faculty Gallery (solo) (2010). In April 2011 she will exhibit a solo project at Pallas Contemporary Projects in Dublin. Martinis Roe has been published in art magazines such as Art & Australia (2009) and produced artist pages for Un Magazine issue 3.1 (2009). Martinis Roe currently lives and works in Berlin.
Feminist Artist Statement
Motivated by an intense interest in the quality and affect of relations between people and texts, I work as an artist in order to practice a politics of sexual difference. This is a positive practice which affirms its genealogy within the history of feminist art practice and then sometimes ruptures it toward a future symbolization of difference. I do this by providing frameworks for events which attempt to simultaneously problematize normative subjectivity and its relationship to authorship, and produce specific and consciously negotiated relations between those who enact the art encounter. I do this work in order to contribute to the future of a parasitic, feminine genealogy, using the legitimacy that the art industry affords it. With a particular interest in the temporal position of my authorship as something that works with histories and their future, I position my activities as platforms for experience and further action, expanding the activity of the 'viewer' to that of interlocutor. However paradoxically, this movement away – this attempt to refuse my own authority – is contingent upon the genealogy of my own work.
And thus, if asked what kind of work I make: I make documents. These documents are objects, images (moving and still), and texts, which record the history of their specific encounter or production without attempting to transparently communicate the content of that experience/activity. The refusal to transfer this content within the same context is where my practice becomes co-dependent on the artwork's interlocutors. These documentary objects/texts then work performatively as frameworks which re-produce the cadrage (conditions of meaning) for the next encounter. For example, I determine specific spatio-temporal structures for encounters between people and objects, which focus on the way in which these structures affect and shape the discourse and experience of the scene. My documents re-present these frameworks so that they are cumulatively affected by the history of these specific encounters. I also organize live demonstrations of actions, which result in random sound compositions as a kind of positive outcome from destructive processes. I have recently worked with different modes of documenting events/encounters of this kind ranging from videos which become instructional tools for re-enactment; objects which are visibly affected by their use and record a material density from different encounters; conversation transcripts; certificates; and the sound and image of the stenotype transcript code produced by a stenographer.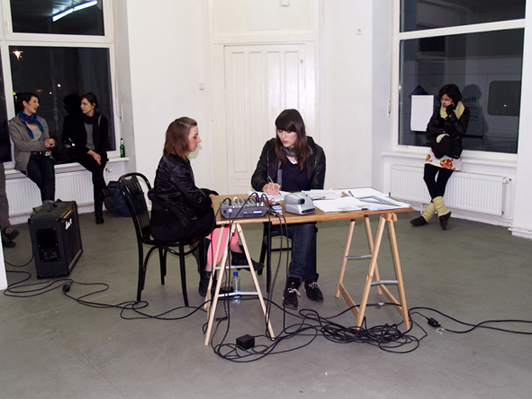 This project involves encounters between visitors to the project space and the artist, who simultaneously transcribes the events which occur. These transcriptions are both the document of each encounter and the instruction for the following encounter. Using various modes of notation including Hanne Darboven's "non-writing", monochrome Polaroids and geometric diagrams, these transcripts form a cumulative archive in the project space, which in turn influences and informs the choices made during each event. The reenactment of an event from the previous encounter forms the starting point for each new interaction. Each encounter is a decision making process which defines the geographic, aural and visual relation between the artist and the visitor. The need for this spatial work upon relations became apparent via an observed analogy between the psychoanalytic encounter and the art encounter: both are one-on-one. The set physical relation between the psychoanalyst and the analysand produces a particular kind of relation. Analysis of this performative operation highlighted the possibility of producing a practical spatial/temporal framework which could facilitate co-authorship of relations in contemporary art contexts, specific to each different encounter. This genealogy of different encounters, which forms the project Encounters: Conversation in Practice, explores both the encounter itself and the artist's contribution as the stenographer of events.
Text, images, audio, and/or video in the Feminist Art Base are copyrighted by the contributing artists unless otherwise noted. All rights reserved.