Alice Lang
Brisbane,
Australia
Currently based in Brisbane, Australia, Alice Lang is a founding member and co-director of LEVEL, an artist run initiative dedicated to providing opportunities for emerging and early career female visual artists, generating critical engagement with the diversity of female contemporary arts practices. In 2004, Lang completed her Honors in Visual Arts at Queensland University of Technology and was awarded the Queensland Art Gallery Hobday and Hingston Bursary. Her work was included in Fresh Cut at the Institute of Modern Art in Brisbane and she was an artist in residence at Metro Arts, Brisbane, in 2005. She was an artist in residence at the Klondike Institute for Art and Culture in Dawson City, Canada, and was announced winner of the pictures category of the Qantas Spirit of Youth Awards in 2006. Lang undertook a year-long mentorship with Elizabeth Ann MacGregor, Director of the Museum of Contemporary Art, Sydney, in 2007. In 2008 Lang attended a 2-month residency at the Art Students League of New York in Sparkill, New York. In 2009 she was one of 10 emerging artists selected to take part in the Splendid Arts Lab and was awarded the Queensland Art Gallery Melville Haysom Scholarship.
Feminist Artist Statement
My practice reinterprets knowledge of craft and sewing passed on to me by my mother and grandmother during my childhood. Memory of this knowledge is used to create materially driven sculptures that reference a range of sewing techniques and material influences including puff paints, second hand fabrics, and applique to create a tension between the decorative and the grotesque, form and formlessness, allure and repulsion.
These sculptures are often utilized as performative objects and wearable pieces that integrate and interact with the subject. I am interested in how this direct interaction is able to reinvent the work in a context other than installation, drawing direct correlations between sculpture and the body. Recent work explores the performative relationship between sculpture and the viewer by creating adaptable sculptural objects that serve multiple functions as banner proclamations, inhabitable and wearable spaces.
Feminism is ingrained in my practice through my understanding of craft as a means to construct objects as well as art historical associations with the body, the abject, and performance that seek to disengage the heroic, masculine mythology that engulfs art history.
The opportunities and lifestyle that I have experienced are very different to those of my mother and grandmother. While my work may not be overtly political, I am interested in the complexities that surround contemporary feminism, slippages in definitions, and discussions of what it means to be a woman in my generation of artists, is it even possible to be a woman and not be a feminist?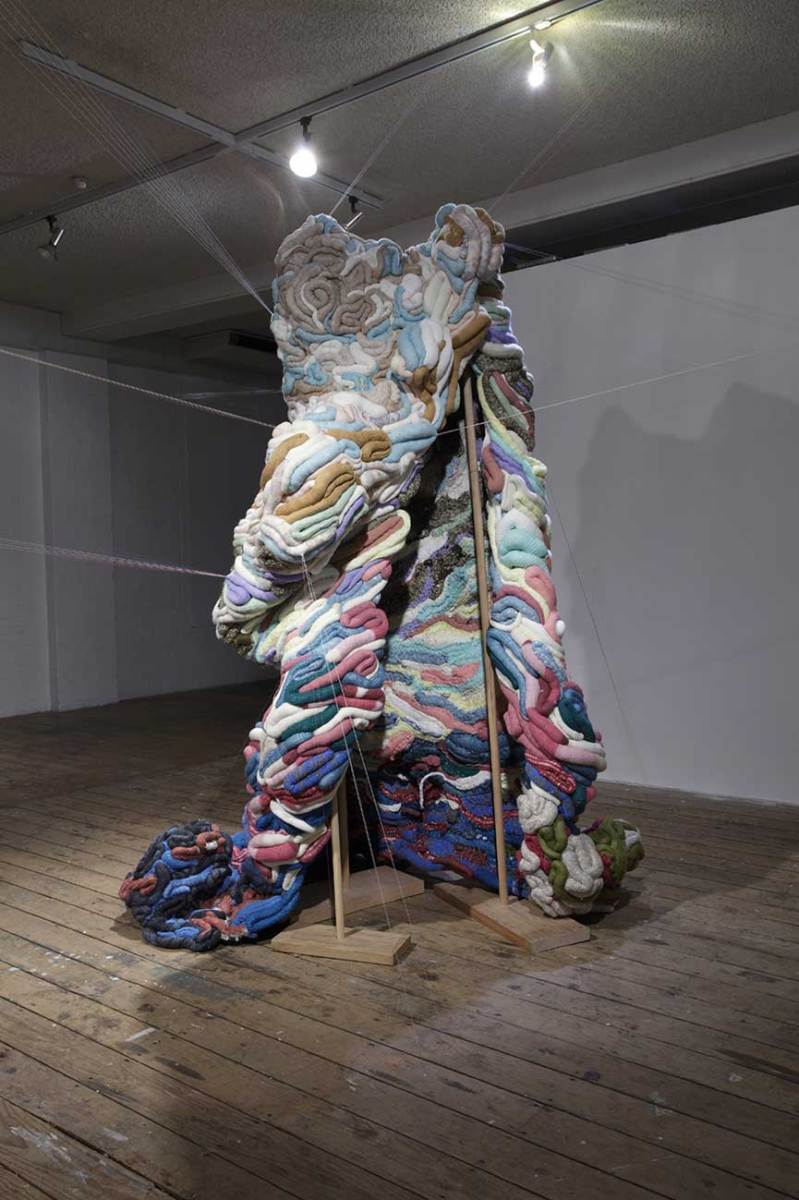 Aura Pod is a large-scale sculpture made from second hand jumpers that have been cut, sewn into tubes, stuffed, and then sewn together in a intuitive manner that allows the materials to determine the form of the work.
Text, images, audio, and/or video in the Feminist Art Base are copyrighted by the contributing artists unless otherwise noted. All rights reserved.