Alison G Weld
Westport, NY
USA
Born in 1953, I was raised in upstate New York. I knew from an early age that I wanted to be an artist. I received a BFA from the College of Art and Design at Alfred University and a MFA from the School of the Art Institute of Chicago, then I moved to New York City. I have been working more than three decades. As an artist, I look to the past as well as to the moment and believe I am part of the continuum. It has been important to have had the stimulus of New York City's museums and galleries for thirty years. I was also fortunate to be a soul mate of the late Stella Waitzkin, the aesthetic mother of my choice whom I knew well for almost twenty years. For twenty years I was also a soul mate of Miriam Beerman, a painter thirty years my senior who received the first woman show here at the Brooklyn Museum. I regard my body of work as my family. My paintings, drawings and sculptural juxtapositions are my children and grand children. My various series and my exhibition history are my genealogy.
In 2010, I had a thirty year retrospective at the Art Museum of the University of Memphis, "Art Is My Natural World: Alison Weld, 1980-2009" and previously in 2006 a mid-career survey, "Allegories of Strife, The Diptychs of Alison Weld," held at the Springfield Museum of Art in Ohio. I have had more than twenty solo shows. My work is in the collections of the Everson Museum of Art, Kresge Art Museum, Radford University Art Museum, New Mexico State University, William Paterson University, Rider University and Rutgers University Newark, the Art Museum of the University of Memphis, among other public collections.
Feminist Artist Statement
My body of work reflects my identity as a woman artist born in 1953, at a time when women were still marginalized. I see my works as autobiographies of a woman. My early "Shower Curtain" series (1980 – 1983) incorporated domestic materials often associated with women, like using plastic shower curtains as a painting support. These feminist works were followed later by diptychs consisting of an oil painting juxtaposed with a panel of upholstery fabric or fake fur, a series entitled "The Home Economics" (1994-2002). "The Flower Juxtapositions" (2003-2006), diptychs comparing a panel of painted artificial flowers to an oil painting, continues to talk about the personal and the external using material contrast and dichotomy to discuss in part the female condition, my condition. My current series, "Ordinary Lives" (begun 2008), employs an intimate scale to speak of the domestic realm and the familial history of women. I had begun to work small in 2007, creating works on maple panels which were soon followed by the gesso boards. My concurrent series of sculptural juxtapositions continue my gender-based creation as well as evoke the natural world, the home, my youth, and the female gender. I see the works as visual poetry. My colors are my words. I see abstraction as visual philosophy. I believe my painting's surface to be a film of consciousness.
Reflecting on my experiences over three decades, I wrote "Ghost Letters," a series of letters addressed to deceased artists—male and female—offering my perspective on being a woman artist and on the women artists before me and my contemporaries. I placed the text on my website as a juxtaposition to the body of works which record my life as an artist.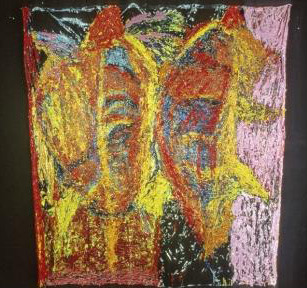 Two Turtles was created by using disposable chop sticks instead of a palette knife interweaving the acrylic in skeins. I painted on plastic shower curtains as a statement about my female gender and women's history. This work's pink edge is the precursor to my later diptychs. It also juxtaposes the structural with the intuitive.
Contact
Westport, NY 12993
USA
Email
Text, images, audio, and/or video in the Feminist Art Base are copyrighted by the contributing artists unless otherwise noted. All rights reserved.