Amy Jenkins
Peterborough,
USA
Amy Jenkins' (b. 1966) approach to art-making is multidisciplinary; the installations she creates combine video, audio, sculpture, and performance to create a poetic space that emulates thought and memory. Over the years she has worked with the moving image combined with sculpture in a number of ways, both with miniature objects and with large architectural elements. Consistent in her work is the psychological aspects of interiors, whether physical in structure or of an individual's psyche. Her installations, films, and photography have been exhibited, screened and published internationally; solo exhibitions include ATHICA: Athens Institute for Contemporary Art, Athens, Georgia, Brattleboro Museum, Vermont; Kustera Tilton Gallery, NYC, Sioux City Art Center, Iowa, and John Michael Kohler Art Center, Sheboygan, WI; as well as museum group shows at Herbert F. Johnson Museum of Art, Ithaca, NY; The Haifa Museum, Haifa, Israel; The National Gallery of Art, Washington, DC; Oberosterreichisches Landesmuseum, Linz, Austria; Cheekwood Museum, Nashville, TN; and Palm Beach ICA, FL; Recent film screening venues include The Brattle, Cambridge, MA; Anthology Film Archives, NY; and Aurora Picture Show, Houston, TX.
Jenkins' work has received wide support from granting organizations, including New Hampshire State Council for the Arts, New York State Council for the Arts, New York Foundation for the Arts, Pollock-Krasner Foundation, Jerome Foundation, the Experimental Television Center, and Aaron Siskind Foundation. She received the Berkshire Taconic A.R.T. Fellowship for 2010. She has also been a Harvestworks Media Artist-in-Residence in NY; other residencies include an NEA-sponsored Fellowship and residency at Virginia Center for the Creative Arts, VA, and artist residencies at MacDowell Colony, Peterborough, NH; Yaddo, Saratoga, NY; Djerassi, Woodside, CA and Light Work, Syracuse, NY. She has been a two-time nominee for the CalArts Alpert Award in Film/Video. Her films received the Director's Choice Award from the Black Maria Film and Video Festival, as well as a Jury's Choice Award at the New York Exposition of Short Film and Video.
Included in the Thames and Hudson book New Media in Late Twentieth-Century Art by Michael Rush, Jenkins' artwork has also been reviewed and reproduced in The New York Times, ARTnews, Performing Arts Journal, Aperture, Art New England, The Village Voice, Art Papers, and Bomb, among others.
Feminist Artist Statement
Conceptually my artwork begins with the seed of something from my own life. This process includes the examination of personal concerns that are universal yet are not often discussed within a public sphere; my experience becomes a stand-in for shared experience. In this respect, as a woman artist my work is inextricably bound to my femaleness.
I am also fascinated with the boundary of reality and fiction, a tension created between two states that suspends concrete thought and allows the viewer to enter a metaphorical space. Furthering this state of wonder, many of my video installations play with the sense of scale through the use of the miniature and gigantic. Toy houses and real houses merge. Undersized objects and oversized humans collide.
My family and I are often the performers in this landscape of the home. The content revealed can be challenging; familial relationships, home, sexuality, and the male/female identity are themes I frequent. Visceral and emotional, these personal narratives offer a window into intimate life, where the commonplace becomes surprising and unexpected.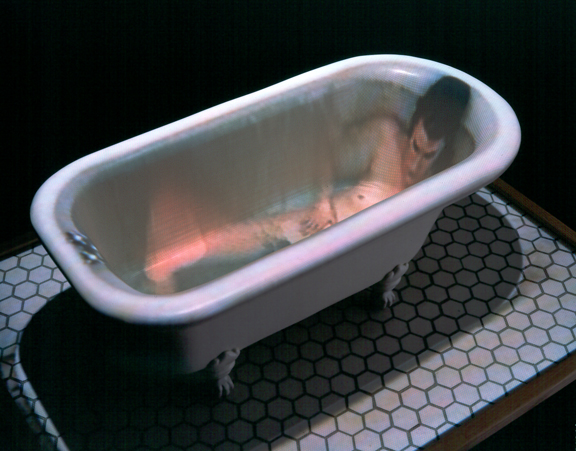 The projected image of blood-clouded water fills a miniature tub into which a woman climbs, crossing the static bounds of space and object. Slowly, one begins to notice the blood recede into her body, the water clearing. Bleeding every month is a defining female experience, yet "Ebb" is a rite of purification in reverse. She gathers up her womanhood and climbs out of the tub, fortified by the transfusion.
Link to view video on artist's website:
http://www.amyjenkins.net/videos/ebb.html
Text, images, audio, and/or video in the Feminist Art Base are copyrighted by the contributing artists unless otherwise noted. All rights reserved.