Andi LaVine Arnovitz
Bak'a,
Israel
Andi LaVine Arnovitz was born in 1959 in Kansas City, Missouri. She graduated with a BFA from Washington University in St. Louis. For many years, Andi worked in advertising as an art director, creating print campaigns and television commercials. She attributes the conceptual ideas behind many of her pieces to this work experience. Andi considers herself a printmaker, a paper-manipulator, a bookmaker and an assemblage artist. Her primary love is working with paper, printing on it, etching with it, drawing, sewing, tearing and repairing. Her pieces often reflect her love of pattern, surface, and thread she has had since she was child wandering through her father's fabric store in Kansas City. In 1999 Andi and her family moved to Jerusalem, Israel. A two year sabbatical has become a permanent stay and much of her work is informed by the multitudinous differences of living in the Middle East. Of great concern to her are primary issues surrounding the differences between Jews and Arabs, between religious and non-religious, between Jewish law and contemporary society, between men and women, between young and old. Over and over these politics and tensions are explored, examined and dissected in her works. Andi has had numerous solo shows in Jerusalem, and recently one at Brandeis University, and at Yeshiva University Museum in NYC. Her work has been included in many group shows all over the world: in France, Spain, England, Poland, Canada, Israel, the United States, Lithuania, and Finland.
Feminist Artist Statement
I think that by virtue of the fact that I am a woman, a wife, and a mother, my work is feminine, therefore feminist. How could it be otherwise? Because I am observantly Jewish, I find myself living with a consistent tension between what was, what is, and what could be. My art reflects this ongoing dialogue with what it means to be a Jewish woman, what it means to be a mother of daughters, what it means to be a middle-aged woman. I am continually exploring the politics, myths, and challenges of the woman within Judaism, as well as the cultural and political expectations of what a woman is in the 21st century. I use many art forms that have been traditionally relegated to the realm of women: thread, needle, decoration. I use them to create awareness, protest, dialogue, and disapproval.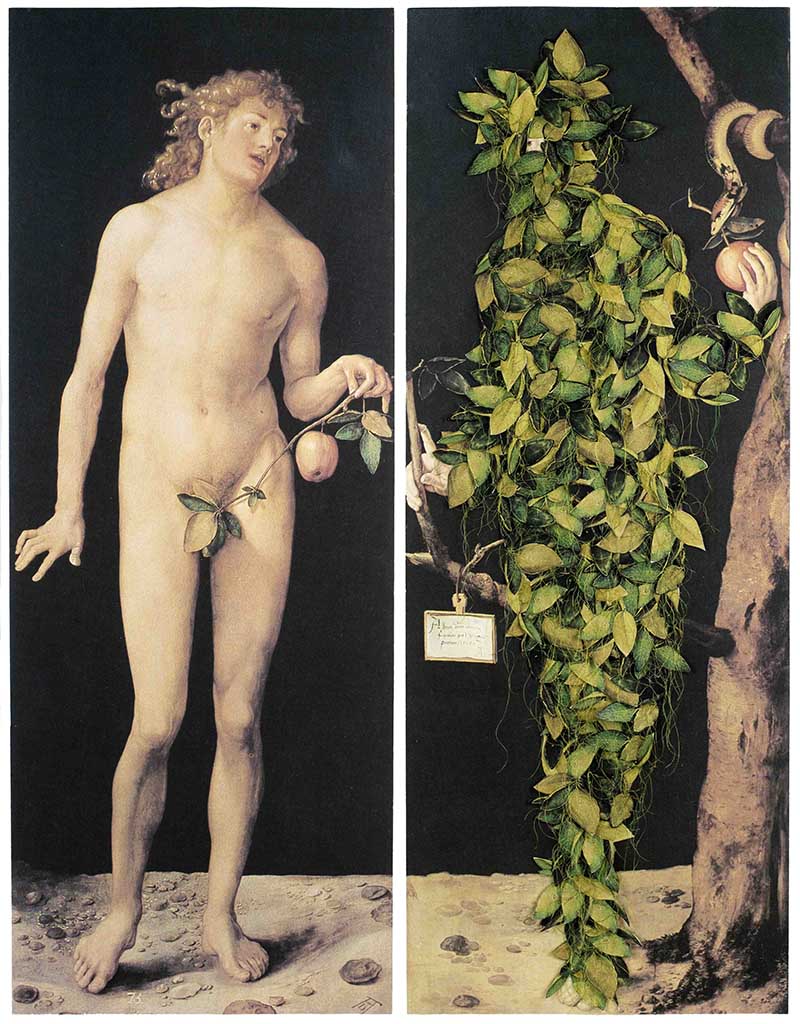 The current religious trend in the Middle east among both religious Muslims and Jews if for women to cover more and more of their bodies. This goes far beyond normal parameters of modesty. I have taken Albrecht Dürer's diptych masterpiece of Adam and Eve from 1507 and suggested that rather than progressing from a time many would consider to be repressive, we are actually regressing.
Contact
Barak #10
Bak'a,
Israel
Email
Text, images, audio, and/or video in the Feminist Art Base are copyrighted by the contributing artists unless otherwise noted. All rights reserved.