Anita Steckel
New York, NY
USA
"Anita Steckel's influence upon significant developments in art of the past twenty years is immense. Steckel pioneered the use of the painted photo in montages, and techniques of appropriation, in a completely original way, which are now a major part of the visual vocabulary of many of today's artists. Also, she was one of the first artists to explore themes of racism, sexism, and contemporary socio-political issues in her art, long before they became subjects of popular movements."
—J. Taylor-Basker, art historian, Kingsboro College
Anita Steckel's often witty and irreverent style has produced some of the most interesting and ground-breaking work of the last four decades. Her self portraits as a giant woman hanging from the Empire State Building may be tongue-and-cheek, yet they also speak to some of the main tenants of Steckel's work where the phallic urban skyline is controlled, claimed, and made personal. She fearlessly investigates ideas of feminism, urbanism, sexism, racism and history. Her work has met with acclaim both internationally and nationally, and she has exhibited in over twenty museums and participated in countless gallery and university shows since the 1960s.In 2006, she was the recipient of a Pollock Krasner Grant. Steckel lives and works in New York City.
Feminist Artist Statement
"We women artists… We believe sexual subject matter should be removed from the 'closet' of the fine arts where it resides in small portfolios, small works, off the walls, in private collections, etc. We believe sexual subject matter includes many things: political statements, humor, erotica, sociological and psychological statements, as well as purely sensual or esthetic 'art' concerns, and of course, the primitive - mysterious reasons none of us know. Sexual subject matter is kept out of museums and in 'smut magazines', films, etc., by men still in power because it is considered too unwholesome for such 'high places'. Nude and sexually portrayed women, however, are not kept out of museums. It is always the men who cover their sex, who hide what they consider 'their shame', who think of their sexuality as unwholesome - the 'fig leaf tradition'. We women artists object to this unhealthy and sexist discrimination and we demand an end to past sexist puritanisms in museums. We assert that sexual as well as any other subject matter is entirely the artist's concern and that museums have no right to impose their puritanical and sexist - unbalanced, therefore unhealthy - timidity and coyness upon us all and upon future generations and we demand that sexual subject matter, as it is part of life, no longer be prevented from being part of art. And since the woman has traditionally been exposed in her full nakedness and sexuality in all the great museums of the world, so should the male be uncovered, as sexually on display as the woman; the erect penis therefore, as it is part of life, will no longer be prevented from being part of art. If the erect penis is not wholesome enough to go into museums it should not be considered wholesome enough to go into women. And if the erect penis is wholesome enough to go into women then it is more than wholesome enough to go into the greatest art museums."
Statement by Anita Steckel (woman artist), distributed to other women artists on March 8, 1973 in NYC.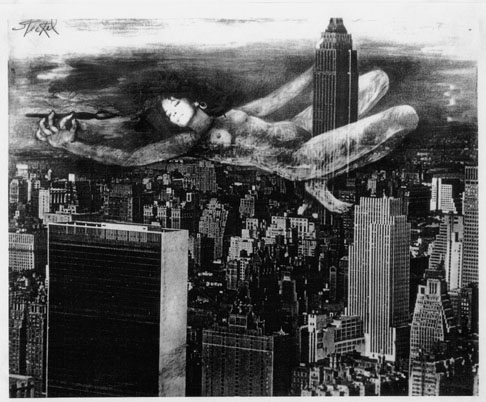 Giant Women on New York series
Contact
55 Bethune St.
New York, NY
USA
Text, images, audio, and/or video in the Feminist Art Base are copyrighted by the contributing artists unless otherwise noted. All rights reserved.