Audrey Flack
New York,
USA
Audrey Flack holds a graduate degree and an honorary doctorate from Cooper Union in New York City, and a Bachelor of Fine Arts degree from Yale University. She also attended New York University's Institute of Fine Arts, where she studied the history of art.
She was awarded the St. Gaudens Medal from Cooper Union, and the honorary Albert Dome professorship from Bridgeport University. She is an honorary professor at George Washington University, and is currently a visiting professor at the University of Pennsylvania.
A pioneer of Photorealism and a nationally recognized painter and sculptor, Ms. Flack's work is in the collections of major museums around the world, including the Metropolitan Museum of Art, the Museum of Modern Art, the Solomon R. Guggenheim Museum, and Whitney Museum of American Art and the National Museum of Art in Canberra, Australia. She was the first photorealist painter to have work purchased by the Museum of Modern Art.
Throughout her career, Ms. Flack's work has been featured in numerous traveling museum exhibitions, including: Twenty-two Realists (1972) at the Whitney Museum of American Art; Super Realism (1975-76) at the Baltimore Museum of Art; American Painting of the Seventies (1979) at the Albright-Knox Gallery, Buffalo, NY; Contemporary American Realism (1981-83) at the Pennsylvania Academy of the Fine Arts, Philadelphia; Toyama Now, 1981 (1981) at the Museum of Modern Art, Tokyo, Japan; and Making Their Mark: Women Artists Move into the Mainstream (1989), which traveled to the Cincinnati Art Museum, the New Orleans Museum of Art, the Denver Art Museum and the Pennsylvania Academy of the Fine Arts. Ms. Flack has also held numerous solo exhibitions at venues including: the Roko Gallery, New York; French & Company, New York; and the Louis K. Meisel Gallery, New York, among others.
There are numerous books on her work. The most recent is Breaking the Rules by Thalia Gouma Peterson, published by the Abrams Publishing Company in New York.
Among her public commissions are a Monumental Gateway to the city of Rock Hill, South Carolina, consisting of four twenty-foot high bronze figures on granite pedestals, and Islandia, a nine-foot high bronze sculpture for the New York City technical college in Brooklyn.
Audrey Flack lives and works in New York City and Long Island.
Feminist Artist Statement
ARTIST STATEMENT
Audrey Flack
As the only woman artist in the groundbreaking Photorealist movement, I broke the unwritten code of acceptable subject matter. Photorealists painted cars, motorcycles and empty street scenes. Cool, unemotional and banal were the terms used to describe the movement. My work, however, was humanist, emotional and filled with referential symbolic imagery. Even deadly serious subjects like the liberation of Buchenwald in my painting World War II were filled with feminine subject matter—silver trays, demitasse cups and pastries. These works were attacked and berated for their feminist content but this very same type of subject matter has found its way into the mainstream. Vision has changed.
For the past 25 years, I have been creating monumental statues of female deities. These public art commissions are sited in cities all over the United States. Tired of Generals on horseback wielding swords, I feel these images of powerful, intelligent females will present the female principle and restore balance to a male dominated world.
"Flack transfigures the conventional form of woman-as-monument for her own purposes. She merges the symbolic trappings of the idealized female with the unmistakable allusions to contemporary woman, using gendered symbols, self-conscious poses and emblems of pop culture. The kitschy-punk overlay of gold and glitter or the cooptation of 'male' technology, as well as the aggressiveness of her figures' stances, work to desacralize these goddesses, detaching them from the masculine allegorical tradition and resituating them in a more self-assertive mode of female authority." (Patricia Mathews, "Goddess Redux," Art in America, March 1994, p.124)
"Flack is one of a group of early feminist artists whose work was crucial in generating new ideas concerning the representation of women, and her goddesses continue to chart new territory. Although there is still a dearth of images of women grounded in their bodies, gestures and actions rather than in their cultural condition or social positioning, few artists have hazarded the ideologically treacherous task of creating them. Flack has the courage (and perhaps the naïveté) to present her goddesses as hopeful emissaries of public and private succor. Her sculptures take too many risks to be politically correct, but their recklessness is part of their strength. These figures deserve serious critical attention as works that activate the field for alternative representations of women. As uneasy sites of contentious meanings, located differently for remarkable instances of female art-making." (Ibid., p. 125)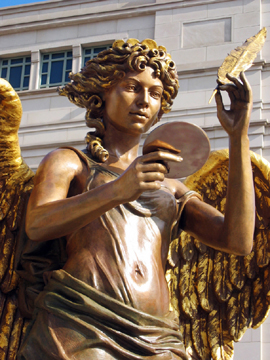 Schermerhorn Symphony Center, Nashville, TN
Text, images, audio, and/or video in the Feminist Art Base are copyrighted by the contributing artists unless otherwise noted. All rights reserved.