Barbara Agnes Roux
Huntington, NY
United State
I am a combined media artist whose work focuses on natural history and habitat change. My projects grow out of my personal involvement with native landscapes and also stem from my actions to protect these wild places as a conservationist. Before going to college, I traveled to Africa where I assisted a British woman geobotanist to collect plant samples for her field work.
I received my B.A. in Communications and Creative Art from S.U.N.Y. College at Old Westbury in 1979 and my M.F.A. in Combined Media Art from C.U.N.Y Hunter College in 1985. My work has been shown extensively in small museums, universities and galleries. I have been active for many years as a member of A.I.R. Gallery in New York, an organization that exhibits contemporary work by women artists. Solo exhibitions of my work have taken place at Lyman Allyn Art Museum, Real Art Ways, Discovery Museum, A.I.R. Gallery, Islip Art Museum, Queens College Art Center and Hofstra University Museum.
My photographs have been featured on the cover of Orion Magazine, Fourth River and Annals of Earth. The New York Times, Art New England, Sculpture Magazine, New York Magazine, Newsday, Arts Magazine, Audubon and Volume Magazine have written about my projects, and I was interviewed by NBC television for a featured segment about my work.
In 1996, I was a panelist for "A Woman's Place" at Staller Center for the Arts, S.U.N.Y. at Stony Brook in Stony Brook, NY. In 2000, I gave an artist talk at Newhouse Center for Contemporary Art in Staten Island, NY. I was the guest speaker for "A Dialogue with Nature" series sponsored by Audubon at Hoffman Center in Muttontown, NY in 2005. I was part of a panel "Art and Sustainability" sponsored by the Sustainability Practice Network held at Smith Barney in New York, NY in 2007. In 2008, my work was the focus of a talk I gave for the "Visions and Voices" series at the Heckscher Museum in Huntington, NY.
Feminist Artist Statement
As a woman artist, I am committed to drawing humans closer to the needs of native habitats and dissolving the boundaries of nature and culture. Unlike the bold and sometimes ravaging statements of power by American mid- 20th century male Earth Artists, my sensibility is about understanding and preservation. My works are poetic, intimate, often ephemeral, and they respond to cycles and changes that operate within native wild habitats. I associate the struggles in wild niches of the woods, meadows, and marshlands with human struggles for an advantage in society, and especially with my own need to find equality and respect as a woman artist in the community of men. With this mission in mind, I see myself as a Feminist.
As a college student in the late 20th century, I began engaging the earth's elements directly in my projects. I created installations of sculptural elements, narrative landscape photographs, and drawings in order to bring the essence of my interaction with wild places, and my desire to protect native habitats, to an audience.
After graduate school, I became a member of A.I.R. Gallery in New York, whose mission I followed through college. A.I.R Gallery is the first artist-run, not-for-profit gallery for women artists. Belonging to this group fostered my need to work with exceptional women and create ecology-based works in a venue for contemporary artists with feminist values. I also created their e-mail newsletter AIR MAIL which I edited for a number of years before becoming an adjunct member. My interpretations of small events in nature aim at eliciting a desire in viewers to continue a dialogue with nature for the purpose of protecting native habitats.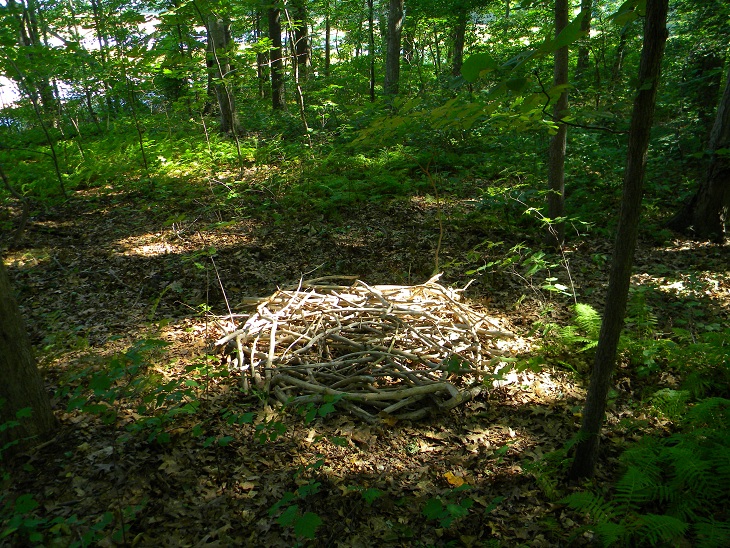 Contact
Huntington, NY
United State
Email
Text, images, audio, and/or video in the Feminist Art Base are copyrighted by the contributing artists unless otherwise noted. All rights reserved.