Barbara Lubliner
New York,
USA
New York artist Barbara Lubliner moves fluidly from performance art to works on paper to sculpture both large and small. Additionally she has organized and moderated panels, curated shows, and started a feminist newspaper.
In the late 1980's, Lubliner started her ongoing series of work called Aspects of the Female Experience. This series grew out of her experiences of giving birth and mothering. While based on the naturalistic figure, in this work she abstracts, alters, and reconstructs forms to express a complexity of associations. Aspects of the Female Experience has been shown in gallery venues as well as public spaces. Lubliner continues to create figurative works that explore the human condition. Many of these are of indeterminate gender and made with papier mache.
In 2000 Lubliner took up welding and began creating playful, toy-like sculptures with found metal. In 2006 Lubliner's impulse to explore varied media led her to create performance pieces.
File Cycle Lubliner's sculpture in Stamford, Connecticut's 2007 art in public places exhibit, was featured in the New York Times article about the show.
Solo exhibits include the Gibson Gallery Museum at SUNY Potsdam; Main Gallery, Port Washington Public Library, NY; Pierro Gallery, South Orange, NJ; and the Alternative Space Gallery, Ramapo College, NJ. Group exhibits include Art in Public Places, Stamford, CT; Gallery Merz, Sag Harbor, NY; Ocean County College, NJ; University of Rhode Island in Kingston; and the City Without Walls gallery in Newark, NJ. In New York City, Lubliner has participated in exhibits at the Chelsea Art Museum, Makor Gallery, Ernest Rubenstein Gallery, Queens College Art Center, and Gallery OneTwentyEight. Recent performance venues include the Brooklyn Museum and Le Petite Versailles garden in New York City.
Feminist Artist Statement
The genesis of my feminist work is my process of making sense of being human and female in our modern world with its paradoxical expectations and values for women.
I delve into what going through life in a female body feels like in a social context and what it feels like emotionally and biologically.
t is a great joy when my work resonates with a viewer. I am grateful for my images to be on this feminist archive where they can heard and be part of such a rich chorus.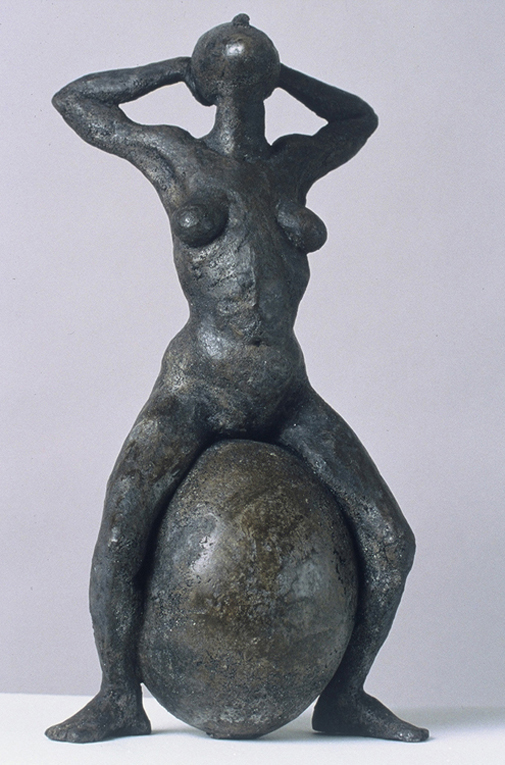 A saddle of female vitality.
Text, images, audio, and/or video in the Feminist Art Base are copyrighted by the contributing artists unless otherwise noted. All rights reserved.