Blanka Amezkua
Bronx, NY
USA
Blanka Amezkua was born in 1971 in Mexico City. She earned a B.A. in 1989 from California State University at Fresno. Between 1997 and 1998, she attended the Academia di Belle Arti, Scuola Libera del Nudo in Florence, Italy. In 2009, she was the recipient of a Department of Cultural Affairs of NY Grant for an alternative art project she had begun in 2008, called "Bronx Blue Bedroom Project" (www.bronxbbp.com). Through this project, Amezkua invites artists to exhibit in the intimacy of her bedroom; they are also asked to cook a meal and to give a workshop based on the work they are showing. In 2008, she was part of the highly competitive Artist in the Marketplace program (A.I.M. 28) at The Bronx Museum of Arts. She has had solo exhibitions at The Taller Boricua in New York; John Spencer Museum in Cuernavaca, Mexico; and Sacramento State University in Sacramento, California. Amezkua has been a part of numerous group shows in the United States and in Mexico. Mentions of her work can be found in the New York Times, TimeOut NY, New York Daily News, The Bronx Beat and Craft Magazine, among others. She lives and works in New York.
Feminist Artist Statement
Inspired by traditional art forms that allow me to articulate ideas about culture, gender and notions of identity, I have adopted crochet, embroidery and comic book visual vernacular as techniques to interpret these ideas. For the last eight years, I have been interested in the Mexican adult comic's reductive representation of women's bodies and identity. I appropriate these images in hopes of liberating them from their pulp fiction world and to witness the new language that is generated through these appropriations. I aim to uncover and recognize the strength these women evoke from this refreshing and new visual articulation.
Over the years, I have learned to trust my process and—by articulating my ideas through needles, fabric, thread, pens and markers—I have encountered a mesmerizing language that is leading me to an expansive world of image- and form-constructing that is not limited to the portrayal of the female figure, but rather includes broader forms and concepts.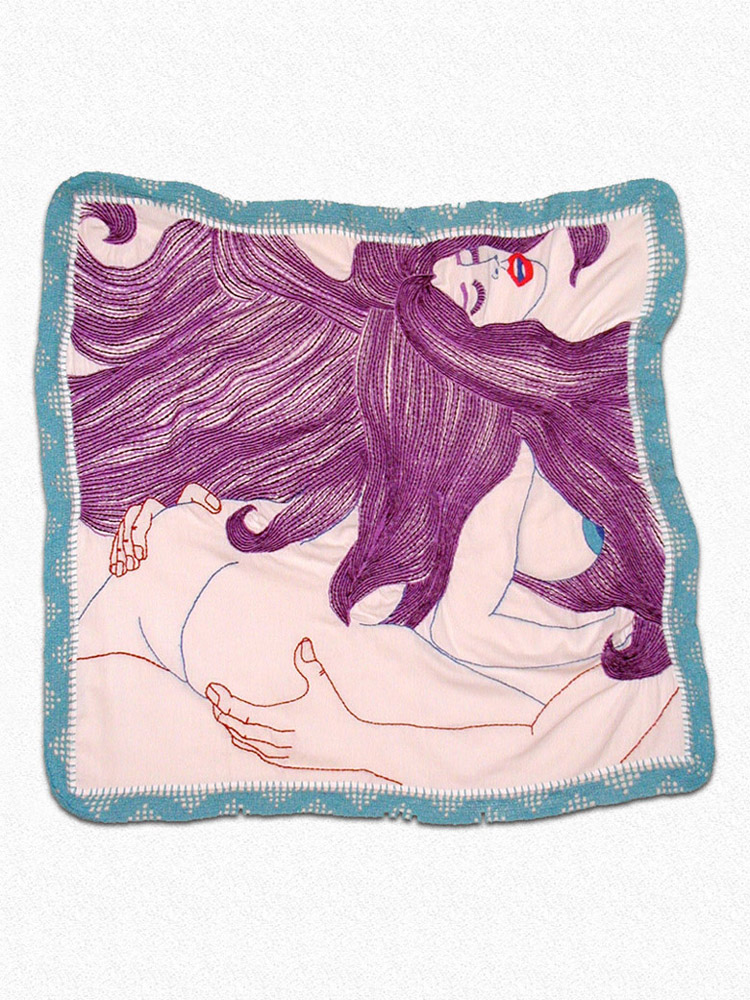 Contact
Bronx, NY
USA
Email
Text, images, audio, and/or video in the Feminist Art Base are copyrighted by the contributing artists unless otherwise noted. All rights reserved.