Carrie Moyer
Brooklyn,
United States
Carrie Moyer is a New York-based painter. Her work has been widely exhibited both nationally and internationally, including such venues as PS1/Institute on Contemporary Art, the Palm Beach ICA, Yerba Buena Center for the Arts, the Weatherspoon, Cooper-Hewitt and Tang Museums, Shedhalle (Zurich), Le Magasin (Grenoble), and the Project Centre (Dublin), among others. Moyer was also the founder of the public art project, Dyke Action Machine! (DAM!). Between 1991-2004, DAM!'s culture-jamming campaigns dissected mainstream visual culture by inserting lesbian images into recognizably commercial contexts. Moyer's work has been reviewed in such publications as Art in America, Artforum, Flash Art, Contemporary, and the New York Times. She has received funding from Pennies From Heaven, Creative Capital, the New York Council on the Arts, Franklin Furnace, and the Peter Norton Family Foundation. Moyer received her BFA from Pratt Institute and MFA from Bard College.
Feminist Artist Statement
Known for paintings that merged the gestures of mid-century abstraction with the political iconography of 20th-century radical graphics, I continue my ongoing interrogation of Modernism with a significantly expanded visual lexicon. My recent paintings are inspired in part by the current critical reassessment of the Feminist Art Movement of the 1970s. Recalling my own first eye-opening encounter with feminist work as a young artist, the paintings are full of forms that resonate with the strangeness and preliterate opaqueness of archaic sculpture. Invented avatars — reminiscent of the Venus of Willendorf, ceremonial instruments, human beings and animals — are evoked through the interplay of abstract shapes, flows of pure color, glitter and transparent veils of poured acrylic. Tongue-in-cheek investigations of Herstory and Judy Chicago's "central core" imagery are playfully tweaked in large paintings that place abstracted fertility symbols within flat, poster-like landscapes worthy of a 1960s Supergraphic. Employing a deepened sense of painterly call and response with puddles and flows of suggestive color, the "The Stone Age" paintings are as refined and elegant as a Kenneth Noland bulls-eye and as raw and bold as a primal scream.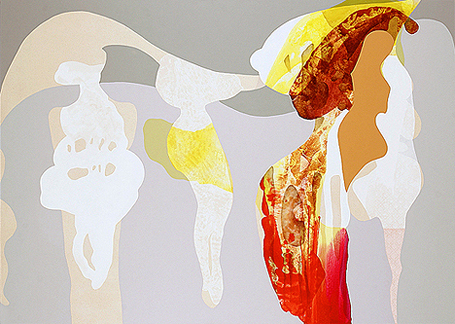 Text, images, audio, and/or video in the Feminist Art Base are copyrighted by the contributing artists unless otherwise noted. All rights reserved.