Catherine Opie
Los Angeles,
USA
Catherine Opie (b. 1961) was born in Sandusky, Ohio. She earned a B.F.A. from the San Francisco Art Institute in 1985, and an M.F.A. from California Institute of the Arts, Valencia, in 1988. She was the recipient of the Citibank Private Bank Emerging Artist Award in 1997, a Washington University Freund Fellowship in 1999, a CalArts Alpert Award in the Arts in 2003, and the Larry Aldrich Award in 2004. In addition to participating in numerous international group exhibitions, she has had solo shows at the Saint Louis Art Museum, Mo.; Walker Art Center, Minneapolis; Cleveland Museum of Contemporary Art; Orange County Museum of Art, Calif.; Aldrich Contemporary Art Museum, Ridgefield, Conn.; and Museum of Contemporary Art, Chicago. In 2004 she participated in the Sao Paulo Bienal and the Whitney Biennial. Her work is included in such public collections as Bank of America, San Francisco; Centro Cultural de Arte Contemporaneo, Mexico City; Fondazione Sandretto Re Rebaudengo, Turin; Israel Museum, Jerusalem; Lambert Art Collection, Geneva; MacArthur Foundation, Chicago; Museum of Fine Arts, Boston; Museum of Modern Art, New York; and Whitney Museum of American Art, New York. She currently lives and works in Los Angeles and New York.
Feminist Artist Statement
Catherine Opie was featured in the Global Feminisms exhibition, curated by Maura Reilly and Linda Nochlin.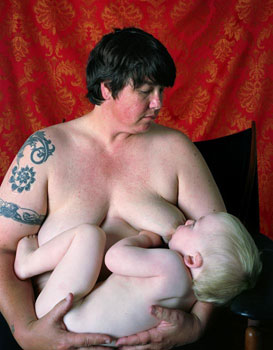 Text, images, audio, and/or video in the Feminist Art Base are copyrighted by the contributing artists unless otherwise noted. All rights reserved.