Charlotte Hodes
London,
UK
Charlotte Hodes studied at Brighton College of Art, 1977-78 and at the Slade School, University College London where she was awarded a B.A. in Fine Art and a postgraduate, Higher Diploma in Painting in 1984. She was Associate Artist at the Wallace Collection, London from 2005-2007 and winner of the prestigious Jerwood Drawing Prize in 2006. She is Professor in Fine Art at London College of Fashion, University of the Arts London.
Many of her projects draw upon established art historical themes and she frequently uses collections and archives as a starting point. This includes research as Associate Artist at the Wallace Collection London where she investigated their world-class eighteenth century French porcelain and fete galantes paintings culminating in a solo exhibition at the Museum, Fragmented Images (2007); Cacophony, an installation of vases which was created for Digital Responses at the Victoria and Albert Museum (2002) and her solo show Drawing Skirts at Baring Wing, University of Northumbria for which she trawled the paper pattern template library archive at London College of Fashion (2008).
In 2010 Hodes held a solo show, Silhouettes and Filigree, of papercuts and ceramics at the Marlborough Gallery London with a selection of this work forming part of the 3-person show Inscription; Drawing Thinking Making 2010 at the Jerwood Space London.
Her work in glass commenced with a commission to make the 2007 UK Arts and Business Awards at the Berengo Glass Studios in Venice. She subsequently made glass work in 2009 for the survey exhibition Glasstress at the Palazzo Cavalli Franchetti for the 53rd International Venice Biennale, Glasstress Stockholm Millesgarden Stockholm (2011) and a new installation, Glasstress: White Light/White Heat for the 55th Venice Biennale (2013), made up of 25 blown hand-enameled and engraved dishes depicting a life size female figure.
She has collaborated on many projects with fellow artists and researchers including an embroidery research initiative with Nottingham Trent University for the exhibition Closely Held Secrets, a glass commission for the National Glass Centre, University of Sunderland for the exhibition Kith and Kin II (2012) and laser cut prints with the Centre for Fine Art Print Research University of the West of England.
Her work is represented in many public collections including Brighton City Museum and Art Gallery, British Council, The Potteries Museum Staffordshire, Women's Art Collection New Hall University of Cambridge, Worcester City Museum and the Victoria and Albert Museum.
Feminist Artist Statement
Whilst my practice is multi-faceted, including collage, ceramic and more recently glass, my work is informed by my experience as a painter. For many years I have been making papercuts in which the recurring theme is that of a female figure silhouette. The silhouette made up of line and pattern is juxtaposed with visual references to domesticity, the decorative arts as well as female figures from historical painting and sculpture. One of the ideas that is central is that of the female figure representing a kind of semi-permeable membrane through which anxieties and experience travel. The work is not so much an autobiographical narrative but rather an attempt to create an order, an interior sensed reality from a female perspective. I use the scalpel blade to draw my line, layering painted and printed fragments of paper to give the papercuts a strong physicality and in some passages, a quality of filigree. This intricate hand making collage process, by which from repeated small actions a large scale work can be made, is further evidence of it being rooted within female experience.
In my current work I am engaged in the theme of the figure as monument, raised on a pedestal. The papercuts in the series entitled Figures on Pedestals (2012) are large scale, some up to 250 centimeters in height. The papercuts in the subsequent sequence Decorative Ornaments (2013) draw upon Owen Jones' mid-nineteenth century illustrated catalogue which systemized architectural ornament. This publication became the starting point for a playful 'journey' in which order is disrupted and where in each work, the female silhouette is the protagonist.
Alongside papercuts, I have been engaged for many years with working onto ceramic. The series A Concise History of Vessels (2012) takes the ceramic vessel, with its obvious female connotations, as a three dimensional canvas around which are juxtaposed both images of vessels and the female figure.
I have also created a number of unique 'one-off' dinner services, the first being made at the renowned English ceramic factory, Spode where I am the only contemporary artist to have had access to their coveted historical archive of engraved transfers, such as Italian Blue and Willow Pattern. Tableware by its very nature exists in the domestic domain and so it provided a perfect context for imagery.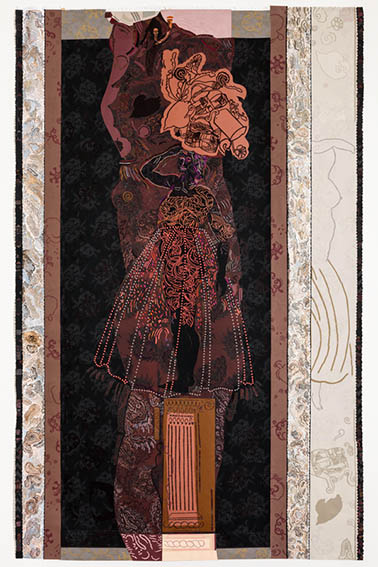 Text, images, audio, and/or video in the Feminist Art Base are copyrighted by the contributing artists unless otherwise noted. All rights reserved.