DEMI
Miami, FL
United States
Born in Camaguey, Cuba in 1955, DEMI is one of the most critically acclaimed Cuban-American artists working in the United States. She depicts a vibrant and intimate universe centered upon children, but hers is neither a sugar-coated nor an innocent vision. DEMI paints luminous and powerful children whose lives have been exposed to the vagaries of the adult world.
DEMI has first-hand knowledge of the plight of children whose fates are altered by devastating events. Her father was executed in Castro's Cuba when DEMI was still a child. "I belong to a forgotten group: children of those executed in Cuba for political reasons," the artist states, "Sons and daughters still too young of age to understand why we were confronted with death, separation and loneliness. My paintings blossom from the inner depths of those childhood memories."
DEMI deliberately employs a naive style and paints mainly children. Although rooted in her personal history, these subjects are fanciful and universal, with powerful social and political overtones.
Her painting "Black Angel" has recently been included in the Smithsonian's American Art Museum Art collection and since 1998 the Smithsonian's Archives of American Art has been collecting DEMI's primary records (correspondence, notebooks, drawings, photographs, catalogues). DEMI's works are featured in many public and private collections worldwide and have been widely exhibited in Galleries and Museums, including Switzerland, France, Panama, Puerto Rico and the United States.
Feminist Artist Statement
My paintings blossom from the inner depth of my childhood memories, and my chosen subject has always been the representation of children. My childhood experience has helped me to see the fragile nature of the individual, our existence at the mercy of natural and historical forces.While the painful experience of exile has defined me, it has also been a liberating experience, a blessing in disguise, because it has allowed me for better or for worse to view life as an "eternal outsider," to have a certain distance with the cultures and societies that surround me. I have always been in search not for analytical accuracy, but for emotional truth.
I employ in my paintings a variety of pictorial metaphors to disclose experiences I want to convey, like isolation and disconnection. I combine ideas from popular culture with imagery culled from the canon of Western European art. I create richly worked decorative surfaces with patterns of line, dots, swirling movements, "puntillismo" and flowers in order to create a sense of anxiety and rhythmic energy.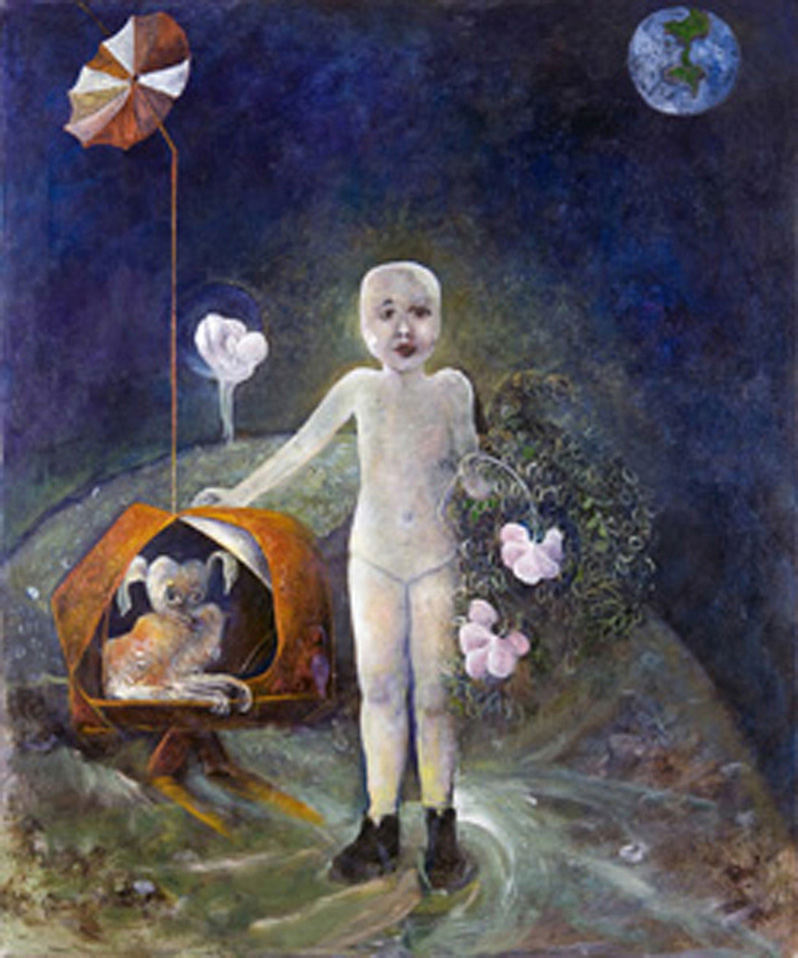 "Girl with Laika" is a painting describing a completely nude girl accompanied by a dog called Laika. Far beyond on the sky you see the planet Earth, suggesting that the girl and the dog are on a different planet. It might be the moon or some other planet. The painting makes reference to an event that happened in November 3, 1957, where a dog named Laika was sent in orbit on Sputnick II. Here, the artist uses the event to indicate her desire of "stopping the world and get out."
Contact
1679 SW 16th Street
Miami, FL 33145
United States
Email
Text, images, audio, and/or video in the Feminist Art Base are copyrighted by the contributing artists unless otherwise noted. All rights reserved.