Dorothy L Powers
Guilford,
USA
Dorothy Powers was born in Hartford, Connecticut and attended Weaver High School. After graduation, she studied painting and drawing at the Hartford Art School, now the University of Hartford. During that time she studied illustration at the Art School of Fashion in West Hartford.
Powers moved to New Haven after her marriage and continued to study studio arts at the Paier School of Arts and Creative Arts Workshop where she now teaches drawing and painting. Her own studio art continued and three months after the birth of her third daughter, she won first prize for a painting at the New Haven Arts Festival. Other awards and prizes have included the Pollock-Krasner Artists Fellowship, the Elizabeth Foundation Artists Grant, the Connecticut Commission Artists Fellowship and The Weir Farm Visiting Prize.
She has worked as adjunct instructor at several Connecticut universities and colleges including Sacred Heart University and Albertus Magnus College. She was also the Artist-in-Residence at Connecticut Hospice for a number of years. Her work in health care continues with arts workshops at a number of Adult Day Care and Assisted Living Facilities in Connecticut.
She has exhibited her art at the New Britain Museum of American Art and the Housatonic Museum and has had her work reviewed in the New York Times, Art New England the Connecticut Journal of Medicine. She is represented in many private and corporate collections, including the Smilow Cancer Hospital at Yale-New Haven. Sacred Heart University permanent art collection, New Haven Public Library and Schwepps Corporate Headquarter in Connecticut.
Feminist Artist Statement
I don't think of myself as a "feminist artist" but rather an artist concerned with issues that undermine the well-being of women and girls around the globe. As a mother of three daughters and six granddaughters, my concerns are personal as well. The subtle abuse of women in our own country, unequal pay for equal work, the glass ceiling to the stoning of women and trafficking of young girls in other cultures continue to this day. I feel these problems are not clearly defined nor understood and have been ignored for too long.
Since the 1990's, my artwork has turned from large scale colorful abstractions to the more serious concerns that face our society. A chemical allergy caused by a company below my studio in New Haven stopped me from doing any art for over a year. I then turned to non-toxic media such as tempera, pencils and charcoal and worked exclusively on paper. Large, somber black and white images of guns, oil tanks and the Kafka-like darkness of city streets were to consume me until my work of women images emerged and have continued to the present.
We as visual artists can communicate our concerns whether we choose the figure, landscape or more confrontational issues such as gender, politics or religion. I have chosen gender.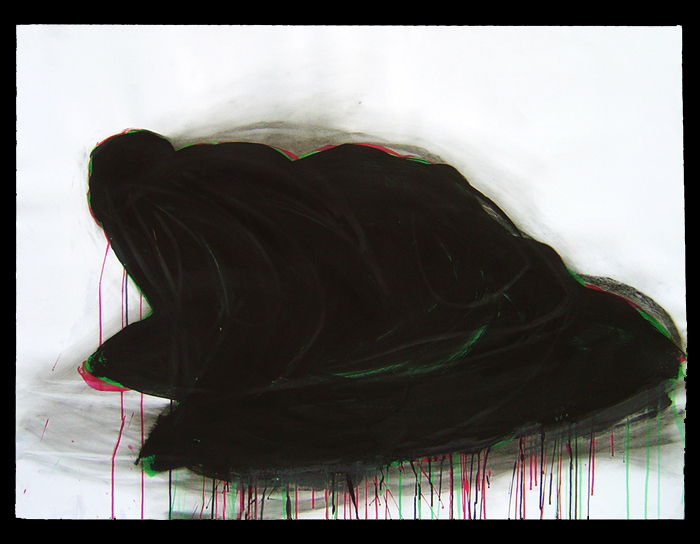 Contact
310 State Street Apt. 211
Guilford,
USA
Email
Text, images, audio, and/or video in the Feminist Art Base are copyrighted by the contributing artists unless otherwise noted. All rights reserved.